Welcome to our stop on A Thousand Nights tour for E.K. Johnston. This tour is hosted by
Rockstar Book Tour.
---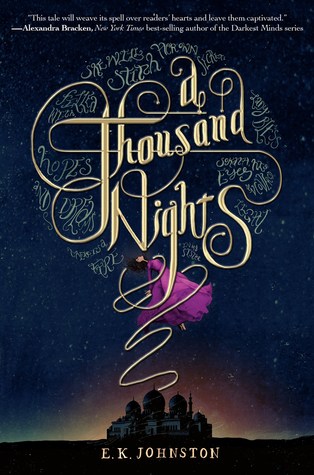 A Thousand Nights
Author: E.K. Johnston
Reading Level: Young Adult
Genre: Fantasy
Released: October 6th 2015
Publisher: Disney Hyperion
Lo-Melkhiin killed three hundred girls before he came to her village, looking for a wife. When she sees the dust cloud on the horizon, she knows he has arrived. She knows he will want the loveliest girl: her sister. She vows she will not let her be next.

And so she is taken in her sister's place, and she believes death will soon follow. Lo-Melkhiin's court is a dangerous palace filled with pretty things: intricate statues with wretched eyes, exquisite threads to weave the most beautiful garments. She sees everything as if for the last time.But the first sun rises and sets, and she is not dead. Night after night, Lo-Melkhiin comes to her and listens to the stories she tells, and day after day she is awoken by the sunrise. Exploring the palace, she begins to unlock years of fear that have tormented and silenced a kingdom. Lo-Melkhiin was not always a cruel ruler. Something went wrong.

Far away, in their village, her sister is mourning. Through her pain, she calls upon the desert winds, conjuring a subtle unseen magic, and something besides death stirs the air.

Back at the palace, the words she speaks to Lo-Melkhiin every night are given a strange life of their own. Little things, at first: a dress from home, a vision of her sister. With each tale she spins, her power grows. Soon she dreams of bigger, more terrible magic: power enough to save a king, if she can put an end to the rule of a monster.
Interview
Would you please tell us something about yourself?
One time, in Jordan, I went camping in Wadi Rum with four friends. It was a little weird because the tour guide never spoke directly to me (I was the only girl), but it was amazing. After climbing a mountain, for example, I was pretty sure I was dying, but then I ate a tomato covered in salt and, I tell you, instant recovery.

Anyway, so we spent the night in this camp where we all theoretically had our own tents, except we were a little worried about scorpions, so we dragged the mattresses out onto the sand, jumped up and down on them for a while, and then got ready to sleep under the sky. The moon came up, and it was bright enough to read by, but it blotted out a lot of stars. We'd been up since 4AM that morning, so we went to sleep early, and I woke up just after midnight, because it got cold. I fumbled for my glasses, and put them on…

…and immediately forgot about anything that had ever existed or would ever exist, because the Milky Way was right above me, and seeing the universe will do that to a person. I really recommend doing that, if you can.

What was your favorite part/character to write in A Thousand Nights?
I love my narrator a lot, and writing her scenes was fun (which is handy, as there were a lot of them!), but the one I like the most is the moment after Sokath, His Eyes Uncovered asks her to think about bearing the King's heir (knowing, full well, that it's a terrible thing to ask her to do), and she's all "No way am I having sex under these circumstances". I deliberately set up the book to avoid sex at all (because it would be rape), but it wasn't until that scene when I realized how I (and she) was going to do it: the women in the qasr help her out.

How much of your day is dedicated to writing in some form or another?
It really depends on the day. I am not the sort of writer who writes every day, so sometimes whole weeks will go by without me putting words to page. When I am drafting, though, I will usually write for about four hours (in the morning), and then spend the afternoon working on promo, email, or taxes (etc).

What books are you excited about in 2016?
Gosh, I'm still excited about the books coming in 2015, the fall line up is so good. In 2016, though, we've got THE RAVEN KING, and the sequels to THE SCORPION RULES, SIX OF CROWS, and A POCKET FULL OF MURDER, which should be wonderful. Also the next book in The Gold Seer Trilogy will come out, and that is exciting.

Is there any other news of upcoming projects or events that you'd like to share with us?
I have a book in the spring about Shakespeare and cheerleaders, and then in the fall, the companion novel to A THOUSAND NIGHTS will (probably) come out. I am very excited about both of those things. Everything else is [redacted for spoilers].


---
E.K. Johnston had several jobs and one vocation before she became a published writer. If she's learned anything, it's that things turn out weird sometimes, and there's not a lot you can do about it. Well, that and how to muscle through awkward fanfic because it's about a pairing she likes.
You can follow Kate on Twitter (@ek_johnston) to learn more about Alderaanian political theory than you really need to know, or on Tumblr (ekjohnston) if you're just here for pretty pictures.
E.K. Johnston is represented by Adams Literary
3 winners will receive a finished copy of A THOUSAND NIGHTS. US Only.
a Rafflecopter giveaway