---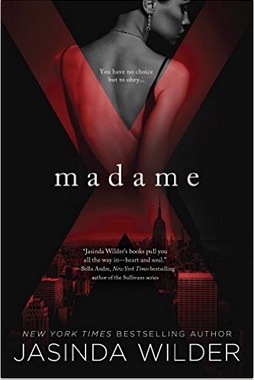 Madame X
Author: Jasinda Wilder
Reading Level: Adult
Genre: Romance
Released: October 6th 2015
Review Source: Berkley
Madame X invites you to test the limits of control in this provocative new novel from New York Times bestselling author Jasinda Wilder. My name is Madame X. I'm the best at what I do. And you'd do well to follow my rules... Hired to transform the uncultured, inept sons of the wealthy and powerful into decisive, confident men, Madame X is a master of the art of control. With a single glance she can cut you down to nothing, or make you feel like a king. But there is only one man who can claim her body—and her soul. Undone time and again by his exquisite dominance, X craves and fears his desire in equal measure. And while she longs for a different path, X has never known anything or anyone else—until now...
It should be known that this is the first time that I am reading a Wilder book. Going into Madame X I didn't necessarily known what I was going to be reading, but you can bet it wasn't what I got. In my eyes, that makes it that much more unique and mysterious.

Madame X is someone they send you to when you aren't living up to what you're suppose to be. What does that exactly mean? Say you are a young rich playboy that likes to spend all your money and thinks that you are entitled to everything that comes your way. Well your father does not see you that way. That's when you get sent to X. She's your tutor of sorts. She turns you from an arrogant know it all to a confident businessman.

So it's kind of hard to say where I am after finishing Madame X. The story itself is intriguing, but at times has you so frustrated with X because of the way she lets herself be treated. Then again I do understand her in some sick twisted way. This is the only person she has come to relay on for the past six years so it's kind of hard to break the only habit you do have.

Wilber's writing is what kept me turning the pages and I'll definitely be looking out for the sequel. The little snippet we did get at the end of Madame X just makes me want it even more.