---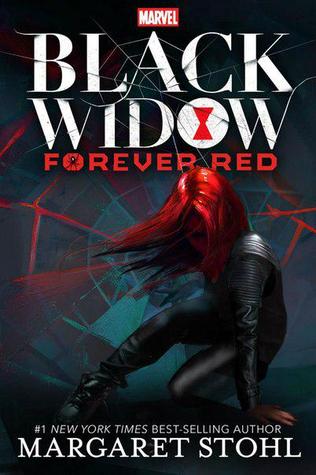 Black Widow: Forever Red
Author:
Margaret Stohl
Reading Level: Young Adult
Genre: Action
Released: October 13 2015
Review Source: Marvel press
This novel features all the thrilling adventure readers will expect from the Marvel brand, backed up by the young-adult cred of #1 New York Times bestselling author Margaret Stohl. Uncover a new side of the Marvel Universe, accessible to old fans and new readers alike, as Stohl weaves an unforgettable story through the world of the Black Widow.
Black Widow: Part of the Avengers, the super hero that everyone knows - but they don't really know who she is and what all she's about. This is your chance to get a look inside Natasha Romanov's life. Ava and Alex are connected in some way, yet they aren't aware of how or why. And when Black Widow comes to their rescue they're mixed into an action adventure they weren't ready for!
Let me preface this with the fact that Margaret Stohl is seriously one of my favorite authors. Anything she writes I will read. I swear, she is me - we have the same taste in nerdy things such as Dr. Who, Superheroes, seriously. Every book she writes has references to one of my other loves. So when I found out that Stohl was writing a book about Black Widow I knew I HAD TO get my hands on an arc. And I am completely 100% glad that I did.
Black Widow: Forever Red is everything that I love about reading. It has action in it, it has jokes thrown into it. Stohl keeps up on her pop culture and it's obvious with the jokes about One Direction, Taylor Swift, Biebs. And she's also conscious of the fact that she's writing a book about one of the Avengers. She knows there's fans who will read the book wanting there to be mention of their favorite Avenger. Mine is Captain America - I would've been happy with 1 mention of him, but there were multiple! And same goes for all the other Avengers.
Honestly it was nice to get a view inside Romanov's head, and I'm glad Stohl was the one to bring her to life. Stohl has the perfect writing style for Romanov. She's just the right amount of sarcasm, power and control for Romanov. I did fall into the trap of seeing Scarlett Johansson as Black Widow, but honestly after reading Forever Red I'm 100% positive that this is how Romanov thinks, there is no other way.
Ava and Alex are great characters that help readers to feel connected to the story. It's hard for us to connect with Romanov - I'm not sure any of us could say we're a spy that kick's butt with Captain America by her side - but Ava is kind of a spy in training, and Alex is a short-tempered boy looking for a way to prove himself to a cute girl. I was able to connect with Ava because, let's face it...I'm going to be Black Widow's protégée...at least I can dream I'm going to be. It was nice to have the break from Romanov, with Ava and Alex you were always up to speed. With Romanov you felt as if she was always ten steps ahead of you and then you would be with her.
Honestly - this book is for everyone who loves superheroes. My dad plans on reading this book next. He saw me reading it and asked "when you're done can I read it?". So my advice to you? Pick this one up and give it a shot.