---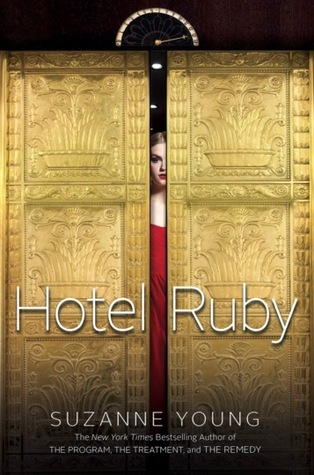 Hotel Ruby
Author: Suzanne Young
Reading Level: Young Adult
Genre: Mystery
Released: November 3rd 2015
Review Source: Simon Pulse
Stay Tonight. Stay Forever.

When Audrey Casella arrives for an unplanned stay at the grand Hotel Ruby, she's grateful for the detour. Just months after their mother's death, Audrey and her brother, Daniel, are on their way to live with their grandmother, dumped on the doorstep of a DNA-matched stranger because their father is drowning in his grief.

Audrey and her family only plan to stay the night, but life in the Ruby can be intoxicating, extending their stay as it provides endless distractions—including handsome guest Elias Lange, who sends Audrey's pulse racing. However, the hotel proves to be as strange as it is beautiful. Nightly fancy affairs in the ballroom are invitation only, and Audrey seems to be the one guest who doesn't have an invite. Instead, she joins the hotel staff on the rooftop, catching whispers about the hotel's dark past.

The more Audrey learns about the new people she's met, the more her curiosity grows. She's torn in different directions—the pull of her past with its overwhelming loss, the promise of a future that holds little joy, and an in-between life in a place that is so much more than it seems…

Welcome to the Ruby.
A new start.
A new place to live.
This is Audrey's new beginning.
3 months ago, Audrey Casella had the perfect family. Now her mother is dead, her father is simply absent minded and her brother, well things are not the same. On the way to her new future, Audrey's father stop at a hotel, that is
Hotel Ruby
. A hotel that is enchanted. A hotel full of beauty. As the saying goes, don't judge a book by its cover. Well in this case, don't judge a hotel by its beauty. See, Hotel Ruby is haunted. A terrible tragic happened and the souls of these victims still lingers within the walls. Unfortunately for Audrey and her family, once you enter this hotel, you are not allowed to leave.
From the strange concierge to the creepy porcelain doll, The Ruby is not your normal hotel. But once you start to fear, The Ruby will make you feel at ease, make you forget things. And if you're the "right person", every night you stay, it will drain your guard down and soon will possess and take over you. If you're not, then you will simply go mad. Worst, when you try to get escape, there is no way out for you. A mad house, if you ask for my opinion.
Crazy! This book is mad. At the beginning, I found the pacing a bit slow than what I'm used to with Suzanne's books. However, like any of her other books, I became addicted. The more I learned about Hotel Ruby, the more curious I become. What exactly is The Ruby? Is it really haunted? Why are these people not allow to leave? Who are the "Others"? Seriously, the more I read, the more questions began to pop up. Fear not Suzanne's fans, she will explain everything. When the truth is reveal… well, yeah… about that. I didn't see that coming. The twist will have dumbfounded.
Bravo
Suzanne, bravo. You never seem to let me down.
I highly recommend this book to all lovers of mystery but I hope everyone gives it a try.