---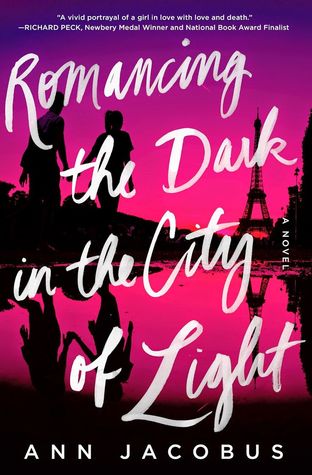 Romancing the Dark in the City of Light
Author:
Ann Jacobus
Reading Level: Young Adult
Genre: Contemporary
Released: October 6th 2015
Review Source: A Thomas Dunne Book for St. Martin's Griffin
A troubled teen, living in Paris, is torn between two boys, one of whom encourages her to embrace life, while the other—dark, dangerous, and attractive—urges her to embrace her fatal flaws.

Haunting and beautifully written, with a sharp and distinctive voice that could belong only to this character, Romancing the Dark in the City of Light is an unforgettable young adult novel.

Summer Barnes just moved to Paris to repeat her senior year of high school. After being kicked out of four boarding schools, she has to get on the right track or she risks losing her hefty inheritance. Summer is convinced that meeting the right guy will solve everything. She meets two. Moony, a classmate, is recovering against all odds from a serious car accident, and he encourages Summer to embrace life despite how hard it can be to make it through even one day. But when Summer meets Kurt, a hot, mysterious older man who she just can't shake, he leads her through the creepy underbelly of the city-and way out of her depth.

When Summer's behavior manage to alienate everyone, even Moony, she's forced to decide if a life so difficult is worth living. With an ending that'll surprise even the most seasoned reader, Romancing the Dark in the City of Light is an unputdownable and utterly compelling novel.
Romancing the Dark in the City of Light
was definitely a book that grabbed my attention right away, from the cover to the title I was already saying "yes please" when offered to review it. Then I started reading this book and it was completely different from anything I thought it could've been. It was a harder read than most due to do the subject matter and it wasn't what I had initially thought it was going to be, some cutesy romance in Paris, nope, not at all.
I don't plan on going into much detail about this book because there are some spoiler-ish things I'd like to avoid, but I shall do my best.
Romance the Dark in the City of Light
follows 18 year old Summer Barnes, who is now moved to Paris in hopes to finally graduate high school. The thing that always seems to be getting in her way is getting kicked out for breaking rules, drinking on campus, or having pills that were not prescribed to her. All Summer wants is to get through school and have someone to hold hands with, someone to love in the city of love. Summer ends up meeting two guys, one who has a good head on his shoulders, making Summer want to do better, and then the other who divulges into Summer's bad habits. Making a choice between them could never been harder for her. Summer battles major demons in this book and that's where all the heavy stuff comes in, the addiction, depression, and anxiety. It's hard to read about these subjects but it's something to be read about, something for someone to relate to.
As I said previously, this book does cover heavy subject matter, but that shouldn't make you skip over it. It was hard to watch someone constantly destroy themselves, but it was so good to root for the girl that was a constant pessimist, because you knew deep down it was the demons and not the girl. Plus there were some twist and turns that made you page through this book quickly.