---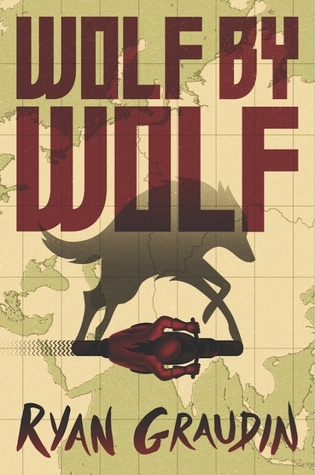 Wolf By Wolf
Wolf By Wolf # 1
Author: Ryan Graudin
Release Date: October 20th 2015
Genre: Historical Fiction
Publisher: Little, Brown Books for Young Readers
Code Name Verity meets Inglourious Basterds in this fast-paced novel from the author of The Walled City.

The year is 1956, and the Axis powers of the Third Reich and Imperial Japan rule the world. To commemorate their Great Victory over Britain and Russia, Hitler and Emperor Hirohito host the Axis Tour: an annual motorcycle race across their conjoined continents. The victor is awarded an audience with the highly reclusive Adolf Hitler at the Victor's ball.

Yael, who escaped from a death camp, has one goal: Win the race and kill Hitler. A survivor of painful human experimentation, Yael has the power to skinshift and must complete her mission by impersonating last year's only female victor, Adele Wolfe. This deception becomes more difficult when Felix, Adele twin's brother, and Luka, her former love interest, enter the race and watch Yael's every move. But as Yael begins to get closer to the other competitors, can she bring herself to be as ruthless as she needs to be to avoid discovery and complete her mission?
The fact that Ryan dares to write stories based on our darkest days in history just blows me away. First, The Wall City now Wolf by Wolf. Indeed, she deserves some type of award. Wolf by Wolf is another astonishing tale about survival and finding purpose in life.
In Wolf by Wolf, we meet Yael and she has one purpose. To kill Adolf Hitler. I've never been a fan of history. But when it comes to the Holocaust, WWII and this evil man, I am consumed with the details, stories and events. And Wolf by Wolf was no exception. I flew by with this story. Because even though killing Hitler would be something epic, sometimes trying to stay safe is more important. As we follow Yael and her adventures, we come to terms that sometimes your goal may seem impossible but there are other things we need to be aware of beforehand. And surviving is the key.
From being an experiment, Yael has conquered many things. The "skinshift" was kind of a cool factor in this story. The fact that she is able to appear as others is something that comes in handy. But her personality is for the win. This girl can do so major damage! She knows how to kick-ass! I loved her to pieces.
What I find more amazing about this book is the feel like you're living the story. Every since I've read The Wall City, I've been fascinated by Ryan's writing. She has the ability to make you feel like you're the main character and experiencing all these horror. Particularly due to the fast pacing that brings you such excitement of what's to come next. Let's not even begin with the twists.
I loved this story. Not a fan of the ending due to a big cliffhanger, but highly recommended. Seriously, this is a story everyone should give a try!
Thank you, Ryan for writing another epic story!