---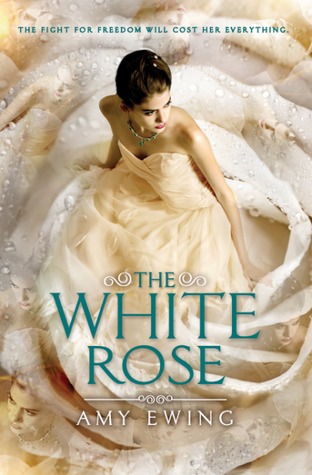 The White Rose
The Lone City #2
Author: Amy Ewing
Reading Level: Young Adult
Genre: Dystopia
Released: October 6th 2015
Review Source: HarperTeen
Violet is on the run. After the Duchess of the Lake catches Violet with Ash, the hired companion at the Palace of the Lake, Violet has no choice but to escape the Jewel or face certain death. So along with Ash and her best friend, Raven, Violet runs away from her unbearable life of servitude.

But no one said leaving the Jewel would be easy. As they make their way through the circles of the Lone City, Regimentals track their every move, and the trio barely manages to make it out unscathed and into the safe haven they were promised—a mysterious house in the Farm.

But there's a rebellion brewing, and Violet has found herself in the middle of it. Alongside a new ally, Violet discovers her Auguries are much more powerful than she ever imagined. But is she strong enough to rise up against the Jewel and everything she has ever known?

The White Rose is a raw, captivating sequel to The Jewel that fans won't be able to put down until the final shocking moments.
The White Rose was a good sequel to The Jewel. I love how this book picks up right where the first book left off. Which wasn't a nice place! Really, that is not a nice place to leave your readers hanging. I loved how this book when right in action, where Ash and Violet are trying to escape the Dutchess by the Lake. If you read the first book, then you know this lady is not a very nice person. So if the gang failed on their mission, then their head will be cut off. Well not technically but this is something the Dutchess wouldn't hesitate to do.
Although I liked The White Rose, I think The Jewel is far the best of series. The White Rose starts with a bang with some awesome scenes but then there were times that I did tuned out. I liked the characters and I loved how Violet always puts her friends before her. However, Rave, her best friend, outshines her with her fierceness.
The world of the Jewel is hard and this series covers some tough topics. Somethings not for everyone. However, I cannot wait for the next book. This is a series I would recommend to mature young adults.
---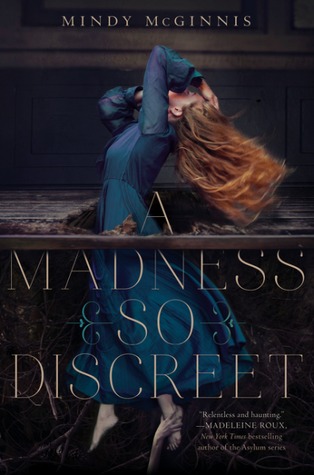 A Madness So Discreet
Author: Mindy McGinnis
Reading Level: Young Adult
Genre: Historical Fiction
Released: October 6th 2015
Review Source: Katherine Tegen Books
Grace Mae knows madness.

She keeps it locked away, along with her voice, trapped deep inside a brilliant mind that cannot forget horrific family secrets. Those secrets, along with the bulge in her belly, land her in a Boston insane asylum.

When her voice returns in a burst of violence, Grace is banished to the dark cellars, where her mind is discovered by a visiting doctor who dabbles in the new study of criminal psychology. With her keen eyes and sharp memory, Grace will make the perfect assistant at crime scenes. Escaping from Boston to the safety of an ethical Ohio asylum, Grace finds friendship and hope, hints of a life she should have had. But gruesome nights bring Grace and the doctor into the circle of a killer who stalks young women. Grace, continuing to operate under the cloak of madness, must hunt a murderer while she confronts the demons in her own past.
Grace Mae is one heck of a character. The girl has been through a lot at such young age. Yet, Grace knows how to deal with life, better than many of us. Although she loves to keep her secrets locked away, this girl will prove to many that sometimes being a little mad is not too shabby.
Okay, so Grace is locked at an asylum to protect her secret. She is pregnant and the last thing she wants is to hear from her parents. Why you may ask. Well my friend, you will have to read the story to find out.
Although Grace is clever, there are many silly things she did in this story. Sure she's not perfect but yes, these were very silly things. Sometimes a bit annoying. Though her skills at solving mystery are on point and it was fun to read.
Overall, A Madness so Discreet is an okay read. It had it's creepy vibes but sadly it wasn't memorizing.