---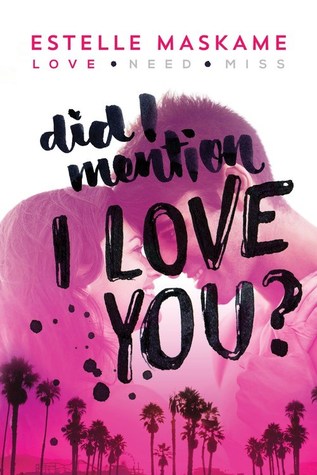 Did I Mention I Love You?
The DIMILY Trilogy #1
Author:
Estelle Maskame
Reading Level: Young Adult
Genre: Romance
Released: December 1 2015
Review Source: Sourcebooks Fire
When sixteen-year-old Eden Munro agrees to spend the summer with her estranged father in the beachfront city of Santa Monica, California, she has no idea what she's letting herself in for. Eden's parents are divorced and have gone their separate ways, and now her father has a brand new family. For Eden, this means she's about to meet three new step-brothers. The eldest of the three is Tyler Bruce, a troubled teenager with a short temper and a huge ego. Complete polar opposites, Eden quickly finds herself thrust into a world full of new experiences as Tyler's group of friends take her under their wing. But the one thing she just can't understand is Tyler, and the more she presses to figure out the truth about him, the more she finds herself falling for the one person she shouldn't – her step-brother.

Throw in Tyler's clingy girlfriend and a guy who has his eyes set on Eden, and there's secrets, lies and a whole lot of drama. But how can Eden keep her feelings under control? And can she ever work out the truth about Tyler?

Did I Mention I Love You is the first book in the phenomenal DIMILY trilogy, following the lives of Eden Munro and Tyler Bruce as they try to find their way in an increasingly confusing world.
Eden hasn't seen her dad for three years; ever since he walked out on her and her mother and she hasn't wanted anything to do with him before. Until the summer when he invites her down to California to visit him and his new family, her step-family. She isn't jumping for joy at the idea, but she has her own issues in Portland that she needs to get away from. She isn't thrilled to have a new step-family but her stepbrother Tyler intrigues her like no other. He's a brooding young man with a temper something fierce. Eden is determined to figure out what makes him tick, and by doing that she might also fall in love.
Okay, confession time. Flowers In The Attic is one of my all time favorite books. Absolutely loved it, and I felt like Did I Mention I Love You? seemed to have the same qualities that Flowers had. But when you think about it, is it really wrong to fall for a stepsibling? Sure it's gross because they're considered your sibling but it's by marriage. It's not blood. Maybe if her biological dad was really Tyler's biological dad it would be incestuous but does it really count as incest if you're not really related? I think not. So Eden kept freaking out over this fact - I feel like it was a little over dramatic of her. Sure at first freak out over it, but then realize well we aren't really related.
I started this book knowing that it was a series....but I didn't realize the kind of cliffhanger that awaited me at the end of this book. I thought I'd be happy with it - part of me is - but honestly it didn't end at all how I wanted it to! And I know that this series started on Wattpad, so if I really wanted to I could go and find the sequels. But I feel as though I'm a bit of a book purist. Even though it started on Wattpad, because I read Did I Mention I Love You as a book, I can now only read the sequels as a book. And now I have to agonizingly wait to see if what I really want to happen, will happen.