---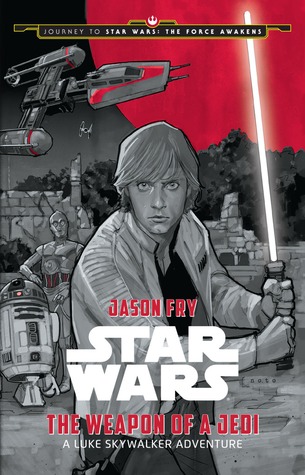 The Weapon Of A Jedi: A Luke Skywalker Adventure
Journey To Star Wars The Force Awakens
Author:
Jason Fry
Reading Level: Young Adult
Genre: Science Fiction
Released: September 4 2015
Review Source: Disney Lucasfilm Press
A long time ago in a galaxy far, far away....

The REBEL ALLIANCE has destroyed the Empire's dreaded DEATH STAR, but the galaxy remains convulsed by civil war, and the Imperial starfleet is hunting the rebels throughout the galaxy.

LUKE SKYWALKER, the pilot who destroyed the Death Star, is now hailed as a hero. But Luke seeks only to support the freedom fighters, serving the Rebellion behind the controls of his X-wing fighter.

Even as he flies alongside the pilots of Red Squadron, Luke feels stirrings in the mystical energy field known as the Force. And this farm boy turned fighter pilot begins to suspect his destiny lies along a different path....
A Jedi we are all very familiar with, just in a situation we are unfamiliar with. Luke Skywalker is a well known Jedi and when he was first learning the ways of the Force he had a strong calling to travel to Eedit, an abandoned Jedi temple. When he arrives he must learn how to use the Force, and how he must let the Force guide him.
I love Star Wars. I'm always shocking people when I tell them this. Yes I am a 23 year old girl, and yes I grew up wanting to be Darth Vader. Does that make me evil? No. Does that make me a nerd? Probably. Am I crazy for loving it? NO! My Aunt always tells my cousins - who are boys - that they are lucky to have a cousin like me, who loves Star Wars as much as their own father does. To me, I think every girl loves Star Wars...but I do have a few friends who don't appreciate it.
Anyways - so reading these books has been amazing. I always am apprehensive when I pick up any Star Wars books. These are stories that I know so well and am in love with. I don't want anything to get messed up. While most stories are just extensions of what has happened in the films I'm always leery of the fact that someone's taking something I love so much into their own hands.
Fry did an amazing job at inviting me inside the mind of a Jedi. It's the first time I've ever felt like I understood the Force. Sure we all know that the Force is essentially a religion, and that Jedi's can use it to do telekinesis (essentially) but we don't understand how it works. I liked to think that you're just born with it and you can use the Force off the bat. But this book explains the process that Luke has to go through. How you have to feel the Force that is in everything. Even inanimate objects have the Force, and that is for you - the Jedi - to figure out.