---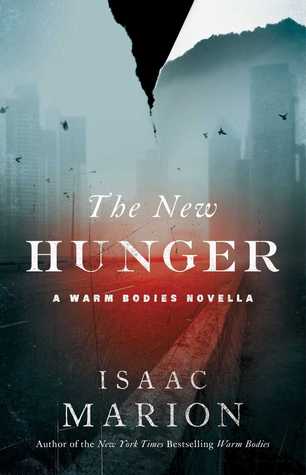 The New Hunger
Warm Bodies novella
Author:
Isaac Marion
Reading Level: Young Adult
Genre: Zombies | Horror
Released: October 6, 2015
Review Source: Atria/Emily Bestler Books
The end of the world didn't happen overnight. After years of war, societal breakdown, freak storms, and rising tides, humanity already hovered near the edge. Then came the most unexpected threat of all: the world's corpses rising up to deliver the final blow.

Born into this bleak and bloody landscape, twelve-year-old Julie struggles to hold on to hope as she and her parents drive across the wastelands of America on a nightmarish road trip in search of a new home.

Hungry, lost, and terrified, sixteen-year-old Nora finds herself her brother's sole guardian after her parents abandon them in the not-quite-empty ruins of Seattle.

And in the darkness of a forest, a dead man opens his eyes. Who is he? What is he? With no clues beyond a red tie and the letter "R," he must unravel the grim mystery of his existence—right after he learns how to think, how to walk, and how to satisfy the monster howling in his belly…
First I'd like to start by saying that I have not read
Warm Bodies
. I know, I know shame on me! But more on this later…
The New Hunger
follows three characters: Julie, Nora, and R. It's a prequel that takes seven years before
Warm Bodies
. The apocalypse has just taken place and the dead are just starting to rise. Julie is 12 and along with her parents, is trying to find safe shelter. Nora is 16 and has become her brother's guardian after their parents abandoned them. R is just waking up and trying to figure out who or what he is.
I loved this novella! Having seen the movie, I was familiar with the characters. I loved getting to know each and every one of them and learning their backstories. Let's also mention how amazing Isaac Marion's writing is. It is so easy to lose yourself in!
Back to
Warm Bodies
now. I am picking it up to read as I type. Am I kind of glad I held off this long? Sure. I'm slightly OCD, so reading the books in this order pleases me! If you haven't read
Warm Bodies
, pick up
The New Hunger
. If you have read
Warm Bodies
, pick up
The New Hunger
. Either way, pick it up!
Next books in the series will be:
The Living - 2017
Check out
HERE
what Isaac Marion said about the sequels!
---
To celebrate the release of The New Hunger, we are giving one reader copies of both. So you get your own copy of
The New Hunger
and
Warm Bodies
. Giveaway is for US and CA residents only.
a Rafflecopter giveaway