---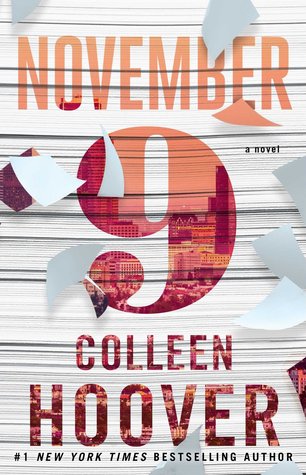 November 9
Author: Colleen Hoover
Reading Level: New Adult
Genres: Contemporary Romance
Release Date: November 10th 2015
Publisher: Atria Books
Beloved #1 New York Times bestselling author Colleen Hoover returns with an unforgettable love story between a writer and his unexpected muse.

Fallon meets Ben, an aspiring novelist, the day before her scheduled cross-country move. Their untimely attraction leads them to spend Fallon's last day in L.A. together, and her eventful life becomes the creative inspiration Ben has always sought for his novel. Over time and amidst the various relationships and tribulations of their own separate lives, they continue to meet on the same date every year. Until one day Fallon becomes unsure if Ben has been telling her the truth or fabricating a perfect reality for the sake of the ultimate plot twist.

Can Ben's relationship with Fallon—and simultaneously his novel—be considered a love story if it ends in heartbreak?
The fact that Colleen Hoover has done it again, has me in awe. She had me in tears from page one to the very last page. The roller coaster ride she puts us, the readers, feels more like a taste of hell and heaven. You get your happy and swoon moments only to be ripped into million of pieces, just to have your heart put back in place. Can you give us a break? No, please continue the torture with your masterpieces.
November 9 has officially topped Hopeless. Who could've seen that? For years, I've been saying Hopeless is my favorite of hers. The moment I cracked November 9 and read the first page, I knew I would deeply fall in love with this book. But little did I know, this book would become my favorite of hers. From the very beginning to the very end, this book is written perfectly.
The day before Fallon is set to start her new life, she meets the boy that will make her life impossible. A boy that will steal her heart, wholeheartedly. A boy that has caused her pain. A boy that will still cause her pain. Yet, this very same boy will make her feel beautiful just the way she deserves to be. A boy who would wait for her for years, a boy who would give his heart to her in exchange of hers. This boy, is more of a man, than many out there, and his name is Ben.
"You can't leave yet. I'm not finished falling in love with you."
Fallon and Ben will take you into a love journey, an unforgettable love story that is. November 9 is a significant date for Fallon but with Ben's help, this day would become more than she ever imagined. A mystery in which you will not be able to put down until you know the truth.
November 9 is simply perfect.
"When you find love, you take it. You grab it with both hands and you do everything in your power not to let it go. You can't just walk away from it and expect it to linger until you're ready for it."
November 9 is mixed of perfection. A story filled with emotions, hope, family, love and so much more.
An inspiring story that will make you realize that sometimes the things that hurt us the most can bring light to our life. That hiding is not the way to live life.
Seriously, this book is Colleen's best ever yet. November 9 is worth the read, worth the purchase and worth your tears. Make November 9 your priority because trust me, you will be hooked with this story!