---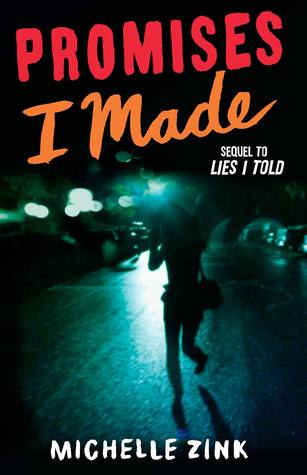 Promises I Made
Lies I Told #2
Author:
Michelle Zink
Reading Level: Young Adult
Genre: Contemporary
Released: November 24th 2015
Review Source: HarperTeen
In the thrilling sequel to Lies I Told, Grace learns that the most difficult thing about pulling off the perfect crime is living with the consequences.

Grace Fontaine was trained to carry out perfect crimes. But when a mistake was made the night her family tried to execute their biggest heist yet, her world fell apart. Now her brother is in jail, her mother has disappeared with the entire stolen fortune, and her father is determined to find a new mark, no matter the cost.

Haunted by the way she betrayed her friends—and Logan, the only boy she's ever loved—as well as the role she played in her brother's arrest, Grace decides she must return to the place every thief knows you should avoid: the scene of the crime.

Returning to Playa Hermosa as a wanted criminal is dangerous. But Grace has only one chance to make things right. To do it, she has to use everything she's been taught about the art of the con to hunt down the very people who trained her: the only family she's ever known. Perfect for fans of Ally Carter, Cecily von Ziegesar, and Gail Carriger, this thrilling, high-stakes novel deftly explores the roles of identity and loyalty while offering a window into the world of the rich and fabulous.
I
FINALLY
got my greedy little paws all over this book. Earlier this year I read
Lies I Told
and could NOT wait to get
Promises I Made
, to finally get all the questions answered. So quick story short, Grace and her family rip off rich families, stealing their wealth and leaving as if nothing ever happened. While in Playa Hermosa their latest grift goes a wry and Parker ends up in jail, Cormac and Grace run away to Seattle, and Renee runs away with all stolen gold.
Promises I Made
is all centered around Grace getting justice for Parker, either getting him out of prison or lower his sentencing, something neither of their "parents" are trying to do. Grace leaves Seattle in the middle of another heist and returns to the scene of the crime to try anything she can to help Parker. While she stole the rest of Cormac's money from the one gold bar Renee left them, it wasn't much, not enough to last her if she's planning on living in and out of hotels. On a whim Grace tries to enlist the help of Selena, her best friend from Playa Hermosa, who was hurt pretty badly after the theft. After some nice and not so nice words were exchanged Grace has a new place to stay and a foot in the door to getting her best friend back. Grace hadn't been able to do much towards helping Parker when a new ally approaches her. The new ally was once burned by Cormac and would love to see him pay for it and if they find Cormac that helps Parker and his case.
As I stated before, I couldn't wait to get my hands on this book, but I think I was living in a delusional world with what I was hoping some of the outcomes would be (cause looking back on it now, I should've known). Obviously I am not going into much detail about those since, you know, spoilers and all. I was more enthralled with
Lies I Told
, it felt more face paced, and I was curious to see what Grace would and would not go through with. But that is not to say I wasn't just as curious with what has going to happen to Grace and Parker and to see if Renee or Cormac would actually get caught. But overall I loved this duology, a little bit of romance, suspense, friendships, broken hearts, and redemption.