---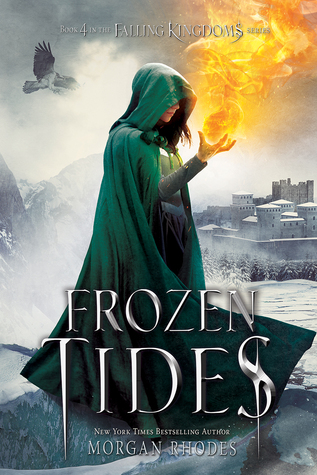 Frozen Tides
Falling Kingdoms #4
Author: Morgan Rhodes
Reading Level: Young Adult
Genre: Fantasy
Released: December 15th 2015
Rebels, royals, and monsters wage war over the Mytican throne in the shocking fourth book of the Falling Kingdoms series, from New York Times bestselling author Morgan Rhodes.

CLEO: Reeling after a bloody showdown in Limeros ending with Amara's abduction of the water crystal, and a vacancy in the Mytican throne, Princess Cleo must cast aside her feelings and look toward her kingdom with the eyes of a Queen.

MAGNUS: With the kingdom in chaos, Princess Lucia still missing and quite possibly in danger, and a shocking realization about Cleo, the steely prince is once again torn between love and duty, leaving him wondering whether he's strong enough to rule his people.

LUCIA: The young sorcercess has had her vengeance after the cruel death of her first and only love. Heartbroken and unable to trust anyone, she allies with the awoken Fire god, who also seeks revenge.

JONAS: After escaping death by the skin of his teeth, the defeated rebel—along with a mysterious stranger–leader reunites with Princess Cleo, only to find himself a mere pawn in a dangerous hunt for the elusive Kindred.

KING GAIUS: Abandoned by Melenia and betrayed by his own children, Gaius flees Mytica and sails to Kraeshia, where he attempts to ally with the famously brutal emperor across the Silver Sea.
The WORLD
The world of Falling Kingdoms is something familiar like Game of Thrones. We have three kingdoms in Mytica and they all have their own unique characteristics.
- Limeros is the most northern country and it is the coldest part of Mytica. Limeros is home of Damoras
- Paelsia - this is the central country and it is said that is filled with magical grapes for amazing wine.
- Auranos - the most southern side of Mytica. This country is run by Bellos family and is filled with luxury
The CHARACTERS
Our main characters will rip you apart! From Magnus Damora, the hot, serious and yet sweet prince, to Lucia Damora, the ONE with magical powers, to the fierce princess Cleo Bellos to the rebel Jonas Agallon. These four, will have you swooning, screaming and pulling your hair out.
Magnus
He is known to be the Prince of Blood. If you were a fan of Gossip Girl and of Chuck, then he is right this alley. Magnus is not only a Prince but has a way to make you swoon. If you look past his ruthless, he will make you fall hopelessly in love with him. This guy has sass and you want it all! Gosh and he is wise! He has the whole Tyrion type of charm with Chuck looks. Let's just say he is perfect!
Cleo
She may be going thru hell, but this Golden Princess will not bow down. She knows her rights and with her cleverness and sweet smile, you need to keep an eye on her. She's a total badass!
Lucia
The girl may be going mad, but you don't want to get in her way. This prophesied Kindred is not one to play with. Leave her be as she is fighting to stay good. She must not let the evilness conquer.
Jonas
This rebel may be annoying at first, but he has a cause. He wants to vengeance his brother's death. Although you may go in a roller coaster ride with him, eventually you would love him. He wants to do good and he will get his way!
If you love Game of Thrones and Young Adult novels, then THIS IS THE SERIES FOR YOU! Take this journey and get lost in Mystica.
---
Morgan Rhodes lives in Ontario, Canada. As a child, she always wanted to be a princess—the kind that knows how to wield a sharp sword to help save both kingdoms and princes from fire-breathing dragons and dark wizards. Instead, she became a writer, which is just as good and much less dangerous. Along with writing, Morgan enjoys photography, travel, and reality TV, and is an extremely picky yet voracious reader of all kinds of books. Under another pen name, she's a nationally bestselling author of many paranormal novels. Falling Kingdoms is her first high fantasy.
Enter this amazing giveaway hosted by PenguinTeen!
a Rafflecopter giveaway