---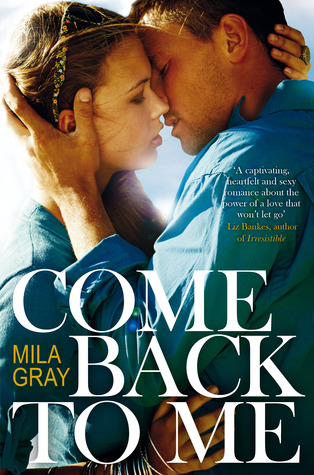 Come Back To Me
Author:
Mila Gray
Reading Level: New Adult
Genre: Romance
Released: December 8 2015
Review Source: Simon Pulse
In this heart-wrenching tale of love and loss, a young Marine and his best friend's sister plunge into a forbidden love affair while he's home on leave.

When a Marine Chaplain knocks on her door, Jessa's heart breaks someone she loves is dead. Killed in action, but is it Riley or Kit? Her brother or her boyfriend?

Three months earlier, Marine Kit Ryan finds himself back home on leave and dangerously drawn to his best friend Riley's sister, Jessa, the one girl he can't have. Exhausted from fighting his feelings, Kit finally gives in, and Jessa isn't strong enough to resist diving headfirst into a passionate relationship.

But what was just supposed to be a summer romance develops into something far greater than either of them expected. Jessa's finally found the man of her dreams and Kit's finally discovered there's someone he'd sacrifice everything for.

When it's time for Kit to redeploy, neither one is ready to say goodbye. Jessa vows to wait for him and Kit promises to come home to her. No matter what.

But as Jessa stands waiting for the Marine Chaplain to break her heart, she can't help but feel that Kit has broken his promise.

Riley or Kit? Kit or Riley? Her brother or her boyfriend? Who's coming home to her?
This book may be unsuitable for people under 17 years of age due to its use of sexual content, drug and alcohol use, and/or violence.
Jessa has known Kit her whole life, only because he is her brother Riley's best friend. The age gap has always been something she was aware of, but something she wanted to leap over. Having always had a sweet spot when it came to Kit, she always assumed that nothing would come of it. When one summer things change. Kit sees Jessa how she had always hoped he would, and now things are on a roll. But only being home for a month before being deployed again puts a damper on things. Kit and Riley are both Marines who deploy at the same time - without both her main men in her life, Jessa isn't sure what will happen. When that fateful day when a Marine Chaplain knocks on her door and she has to figure out which one she can live without.
Wow...I had never read a Mila Gray book before - not even a Sarah Alderson book - but I think I must now read all of her books. I really enjoyed this book, and I also have found myself liking the marine romances lately. The story between two people who can make it work even knowing that they only have a limited amount of time with one another astounds me. But the relationship that sparks between Kit and Jessa is to die for.
I found myself while their romance was starting worrying about whether Kit or Riley would be the ones to break our hearts. Already knowing that someone important to Jessa dies kind of makes you walk on eggshells, not wanting to get too attached. But Gray does a fantastic job of making you step on every single eggshell there is. Kit is the boyfriend that any girl wants, with his romantic gestures and his adorable things that he says. I wish I had a Kit of my own! And then Riley is the brother that you can tell he would do anything and everything for his sister. They are blood and he holds that dear. So I realized when I had fallen for both these characters that I was in for a world of pain.
With some twists and turns thrown in this story keeps you on the edge of your seat. You love the romance that happens, you love the troubles that the characters all go through when it comes to their life's, and you enjoy seeing how they get through everything that happens. I never once found myself bored with this book, and I honestly didn't want it to end.
Another Once Upon A Twilight blogger, Shannon, wrote a review for the UK release of Come Back To Me, so you should check her review out as well!