---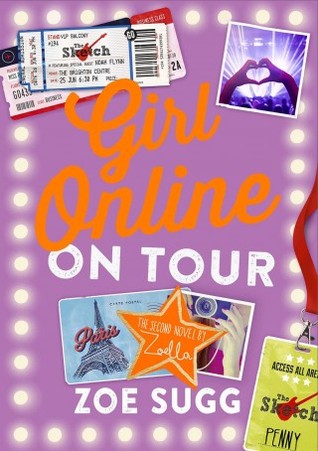 Girl Online On Tour
Girl Online #2
Author: Zoe Sugg
Reading Level: Young Adult
Genre: Contemporary
Released: October 20th 2015
Review Source: Atria
The sequel to the number-one bestseller Girl Online. Penny joins her rock-star boyfriend, Noah, on his European music tour.

Penny's bags are packed.

When Noah invites Penny on his European music tour, she can't wait to spend time with her rock-god-tastic boyfriend.

But, between Noah's jam-packed schedule, less-than-welcoming bandmates and threatening messages from jealous fans, Penny wonders whether she's really cut out for life on tour. She can't help but miss her family, her best friend Elliot . . . and her blog, Girl Online.

Can Penny learn to balance life and love on the road, or will she lose everything in pursuit of the perfect summer?
Girl Online On Tour is another "
OMG, I cannot believe I love this cheesy story"
. Gosh, this story may be cheesy and predictable, however, it is a great love story and I cannot help but love it. From book one, Noah and Penny have me hooked on their romance adventures. It's been one heck of a ride with their ups and down. And once again, I've been left emotionally drained.
Girl Online On Tour is more than a clumsy girl following her rockstar boyfriend on tour. It's more of a self-discovery story than anything else. Just because one may be lost, it doesn't mean you will be stuck forever, well only if you fight your fears. On this story, we learn more about Noah and his love for music. How he is becoming this international sensation. Every girl wants him, including myself.
On the contrary, we read how Penny is having difficulties choosing a professional path. I mean, after all she is young. Yet, she is seeing Noah do what he loves best and she is feeling a little left out. As she travels from town to town, she will soon stumble and break down. With a little bit of help, she will learn that sometime you just have to let go of things, face your fears, and let life teach you one or two lessons. It was heartwarming seeing her grow.
What I love most about this story is how real Penny feels. It's like reading your best friend's personal diary. I love how aware of her experiences. I feel her pain, her love for Noah and her family, as well as trying to figure out life.
I do hope there is a third book because the ending is my only complaint. I did not like how it ended. Well, it's more of a I NEED MORE request than anything. I do hope everyone, especially those lovers of romance, would give this a try.