---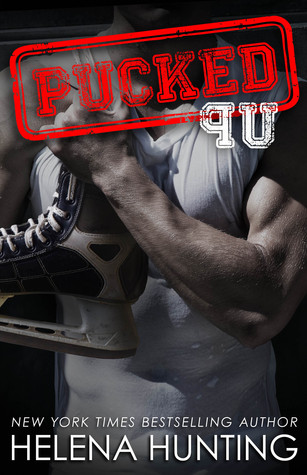 Pucked Up
Pucked #2
Author:
Helena Hunting
Reading Level: New Adult
Genres: Sports | Romantic Comedy
Released: April 28th 2015
Review Source: Purchased
Miller "Buck" Butterson has been banging his way through life ever since a puck to the face fixed his messed up front teeth. After five years in the NHL, deflecting goals on the ice and scoring them with puck bunnies, Miller has decided he's ready for a girlfriend. A real, non-bunny girlfriend to take on dates, and not jump into bed with after five seconds of conversation. Miller thinks he's found that woman in his teammate's sister. Except, unlike team captain and all-around nice guy Alex Waters—who happens to date his stepsister, Miller's media reputation as a manwhore is well earned. Beyond that minor detail, Miller doesn't know the first thing about relationships or the time and effort they require. Miller learns—eventually—that if he wants to make Sunshine "Sunny" Waters fall for him, he's going to have to do a whole lot more than show her his stick skills in the bedroom.
Pucked Up
is the second book of the series by author Helena Hunting. This book follows Miller "Buck" Butterson, who is the step brother of Violet Hall (from book #1 Pucked), and Sunny Waters, who is the sister of Alex Waters (also from book #1).
Buck has always been known as sort of a man-whore. He has a different Puck-Bunny every night and has never had a serious girlfriend. In book one of the series he initially hits on Sunny as a way to get back at Alex for dating his step sister Violet, but Sunny turns out to be way different than the normal girls he is used to. She didn't give it up to him and they actually spent the night talking and getting to know each other. Sunny is also not your typical hoochie momma kind of girl with tight clothes and lots of makeup. She is more of a hippy type. So to say that she is everything that Buck typically doesn't go for is an understatement. But I guess the old saying "opposites attract" is the theme of this book.
This book really focuses on how Buck changes his playboy ways and learns how to be in a relationship for the first time in his life. There are a lot of growing pains for Buck, but as we quickly see there are also things that Sunny needs to learn and grow from as well. She needs to learn to see past the fast paced, fast moving lifestyle of this reforming playboy. She has an ex-boyfriend in the picture who also threatens to cause some trouble for these two on their way to their happily ever after, but together they are learning and hopefully can make it work in the end.
Just like book #1, this book is hilarious. Even though Buck and Violet aren't related by blood, the things that run through their heads and come out of their mouths will keep you rolling. This book has a different leading couple, a different set of problems and obstacles, but at the end of the day…if you are looking for a sweet romance that has lusty, sexy and hilarious times…this is the book and series for you.