---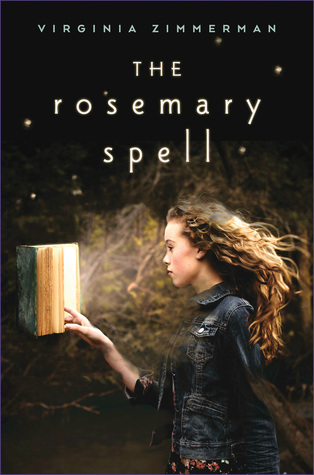 The Rosemary Spell
Author: Virginia Zimmerman
Reading Level: Middle Grade
Genres: Fantasy
Release Date: December 1st 2015
Publisher: Clarion Books
Part mystery, part literary puzzle, part life-and-death quest, and chillingly magical, this novel has plenty of suspense for adventure fans and is a treat for readers who love books, words, and clues. Best friends Rosie and Adam find an old book with blank pages that fill with handwriting before their eyes. Something about this magical book has the power to make people vanish, even from memory. The power lies in a poem—a spell. When Adam's older sister, Shelby, disappears, they struggle to retain their memories of her as they race against time to bring her back from the void, risking their own lives in the process.
When I got my hands on the advanced copy of The Rosemary Spell, I had no idea how difficult of a time I was going to have reviewing it. Before you assume the worst, what I mean by this is, it's such a great book, I was actually stumped for a few days in trying to figure out how to best recap this book as well as how to convey the excitement I felt over this book.
This book falls within the YA category, and it is a great book that every young adult who has a passion for reading should read at least once! It's part mystery, part puzzle and definitely thrilling. I could not put this book down once I got started. Being a book lover myself, I was captivated by this story of Rosie and her best friend Adam (and his sister Shelby) who loved books as much as I do. They have all sorts of books they've read and re-read together, books they keep closest to their nightstand in case they need a specific one for 'emergency reading' (raise your hand if you currently have at least three books within arms reach! I know I do!), as well as books organized in different but specific orders.
There is one quote that stuck with me from the moment I read it, and that I kept in mind the entire time I read this book, "In a way, you are what you read, so abandoning books is the same thing as abandoning a part of yourself." Even typing this gives me chills because it resonates so deep within me; this quote is so true. Think about it (and this doesn't include the books we are told to read for class, I'm talking about the books we select and read on our own time) – how many times have you re-read that battered copy in your library, and why do you keep going back to that book? Also, the books we choose say so much about us, whether we realize it or not. Seriously, think about this for a minute and make your own conclusions about yourself.
Back to the story, Rosie's father just disappeared from her life, and they moved into a house that is two centuries old that belonged to one of their favorite poets. Rosie and Adam end up finding this old, leather bound book that is unbelievably made from parchment! If we recall from our history books, books or anything written on parchment for that matter, dates pretty far back so it's technically valuable. As they try to figure out what is in the book that looks like a diary, they use it to write down some of their own things and it seems like some of the stuff within the book has disappeared, which makes them wonder what is really going on.
One day, when the three of them decide to row to an island for a day of fun, Rosie brings the book with her and is showing Shelby as well as trying to let her know they think the book is magic. Next thing they know, Shelby disappears and they cant remember why she disappears then that turns into not knowing who disappeared which turns into them feeling like they should remember someone or something but for the life of them, they cant remember!
The Rosemary Spell was written exceptionally and it draws you into their world; a world where magic exists and a world where you feel like you are right alongside the characters trying to figure out what is going on. Then, when you take a second to look away from the book, you realize that no, YOU still have your memory and that it's just a book but…what if…what if what happened to Rosie and Adam can in fact happen to you in your life? How exciting would that be? Nothing is impossible!
This book brings your inner child back, where anything is possible and books are more than just words on paper – they are the vessels into another world, a ship with endless destinations.