---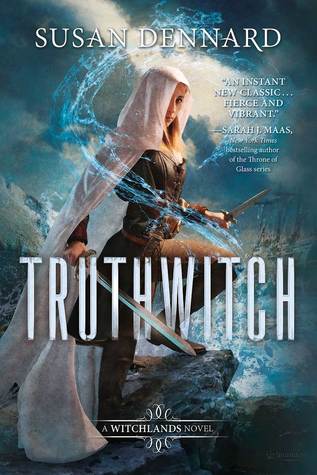 Truthwitch
The Witchlands #1
Author: Susan Dennard
Reading Level: Young Adult
Genre: Fantasy
Release Date: January 5th 2016
Review Source: Tor Teen
In the Witchlands, there are almost as many types of magic as there are ways to get in trouble—as two desperate young women know all too well.

Safiya is a Truthwitch, able to discern truth from lie. It's a powerful magic that many would kill to have on their side, especially amongst the nobility to which Safi was born. So Safi must keep her gift hidden, lest she be used as a pawn in the struggle between empires.

Iseult, a Threadwitch, can see the invisible ties that bind and entangle the lives around her—but she cannot see the bonds that touch her own heart. Her unlikely friendship with Safi has taken her from life as an outcast into one of reckless adventure, where she is a cool, wary balance to Safi's hotheaded impulsiveness.

Safi and Iseult just want to be free to live their own lives, but war is coming to the Witchlands. With the help of the cunning Prince Merik (a Windwitch and ship's captain) and the hindrance of a Bloodwitch bent on revenge, the friends must fight emperors, princes, and mercenaries alike, who will stop at nothing to get their hands on a Truthwitch.
I know many of you are dying to read this book. Truthwitch is the IT book for many of you and I know most of you have read every teasers out there and I know you all will love it. As for me, it was an interesting story. Yet, I really had a hard time keeping up with all the characters. And the fact that everyone have some type of magic was a whiplash for me.
However, some of these characters stood out more than others, especially the Threadsisters. I loved their relationship, they are truly the meaning of friendship. They are inspiring with their courage, bravery and kindness… Even though they have this perfect relationship, they do have their flaws, which is something I also enjoyed. This made them more real to me.
The world building of this book was intriguing. For me, at the beginning it dragged a bit but at one point, specifically a chapter, almost at the middle of the story, it's where everything started to pick up. That's when I really started to enjoy this book. The shock of this twist, was very jaw-dropped and there was a point I couldn't stop turning those pages. Let me not start on the cliffhanger!
Susan's writing reminds me so much of Rae Carson. Where she slowly unravels her story and you're so engrossed in her story, you really don't noticed the point where she enchants you. Such wicked move! Overall, the story has actions, adventures, friendship, and much more. Something I liked but I'm sure many of you will be happy with the story.
On this Christmas Day, I want to share with you a giveaway. One lucky reader will get to win a pre-order copy! This giveaway is open INTERNATIONAL and ends on 1/2/16.
a Rafflecopter giveaway