---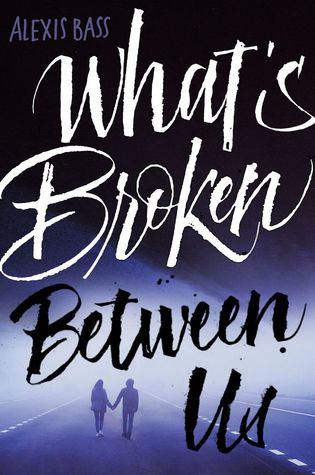 What's Broken Between Us
Author:
Alexis Bass
Reading Level: Young Adult
Genre: Contemporary
Released: December 29 2015
Review Source: HarperCollins
Alexis Bass's heartbreakingly beautiful second novel is a tale of love, loss, and learning to forgive.

Look to the left, look to the right. We're all going to die. But someone has to do it first. So who's it going to be?

Tragedy struck Amanda Tart's town a year and a half ago when a sophomore girl was killed in a car accident on graduation night. Amanda's brother, Jonathan, was behind the wheel and too drunk to drive. He's spent the past year in prison and has cut off all ties. But now Jonathan is coming home. Just as Amanda's trying to figure out what that means for her family and herself, she's paired up for a school project with Henry Crane—a former crush, and brother of Jonathan's ex-girlfriend, who survived the crash with horrible injuries.

Everyone is still incredibly damaged by the events of that night. Can Amanda and Henry finally begin to heal what's broken and find some peace?
Amanda has lived in the shadow of her brother - as she puts it; it has been warm there - until one fateful night when he decides to drive drunk. A stupid decision that one might make most of the times when drunk. But there are those few times when driving drunk ends in disaster. That is what happened to Jonathan. Trying to live life while making sure that everyone doesn't think she's feeling sorry for her brother becomes difficult, and a friend from her past, Henry, is there to bring up the most difficult questions she has for herself.
I have been waiting for this book since I finished Love & Other Theories last year. I didn't know she was writing a second book yet, but I knew that whatever Bass wrote I would read. And yet again, I am already awaiting her third book. Last night when I finished this book there was part of me that wondered; Am I giving this book 5 trees just because I love the author, or is it because the book was that good? As a reviewer I'm worried that my ratings may be a little biased. But when I thought about it I realized: yes, I do love Alexis - I am a loyal reader of her work now - but yes, this book deserves 5 trees.
One of my favorite things about Alexis as a writer is that she is honest. Not in a brutal way, because I'm not sure I would enjoy her writing if she were brutally honest. But each time you finish one of her books, Love & Other Theories or What's Broken Between Us, you are left so happy yet you are also a little disheartened. She doesn't give the perfect ending that most books give to readers. She gives the realistic endings. The endings that will most likely happen when it comes to our own stories.
What makes her stories almost heart breaking is the fact that her characters are ALL LOVABLE! Meaning the characters who we should hate? There's redeeming qualities. Jonathan - yes he killed a fellow classmate, but he's Amanda's big brother. The minute he says baby sister you just want to give him a big hug. Which is partially what Amanda has a hard time with throughout the book. Everyone hates her brother, but to her - he's still her brother.
There were so many great quotes from this book, and so many great musings. One of my favorite things that I took from the story is how even if the blame isn't our own we always find a way to make it ours. My little cousin spills the milk, I could've stopped it by putting it into a sippy cup - I'm sorry. In actuality the kid should've just not spilled the milk. But we will always find ways to make the blame ours. It's human nature. And I feel like this is a story that revolves around how Amanda lets her own blame dictate her life, dictate how she lives.