Welcome to our stop on Sword and Verse tour for Kathy MacMillan. This tour is hosted by
Rockstar Book Tour.
---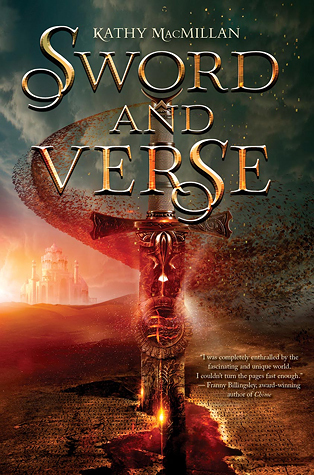 Sword and Verse
Sword and Verse #1
Author: Kathy MacMillan
Reading Level: Young Adult
Genre: Fantasy
Released: January 19th 2016
Publisher: HarperTeen
Raisa was just a child when she was sold to work as a slave in the kingdom of Qilara. Despite her young age, her father was teaching her to read and write, grooming her to take his place as a Learned One. In Qilara, the Arnathim, like Raisa, are the lowest class, and literacy is a capital offense. What's more, only the king, prince, tutor, and tutor-in-training are allowed to learn the very highest order language, the language of the gods. So when the tutor-in-training is executed for teaching slaves this sacred language, and Raisa is selected to replace her, Raisa knows any slipup on her part could mean death.

Keeping her secret is hard enough, but the romance that's been growing between her and Prince Mati isn't helping matters. Then Raisa is approached by the Resistance—an underground army of slave rebels—to help liberate Arnath slaves. She wants to free her people, but that would mean aiding a war against Mati. As Raisa struggles with what to do, she discovers a secret that the Qilarites have been hiding for centuries—one that, if uncovered, could bring the kingdom to its knees.
My Five Favorite Moments from Sword and Verse
…or, more accurately, my five favorite moments that make sense with minimal context and don't give too much of the story away!
Sword and Verse is about an epic romance, so it makes sense that many of these moments are between Raisa and Mati. But it's also about Raisa coming to terms with who she is and the power she has to help her people, no matter how much it frightens her. At the heart of the story is the question of whether following her heart is the right thing to do.
Without further ado, my favorite moments:
1. When Mati agrees to teach Raisa the higher-order form of writing, even though misuse of it was what got her predecessor, Tyasha ke Demit, executed:
"Laiyonea thinks you're not ready," he said slowly. "Why are you so eager to start on the higher order?"
"Oh," I said, "I'll just feel . . . safer . . . once I know them all." It was true enough. The more I knew, the less likely it was that I would be removed, as long as I didn't do anything stupid.
Tyasha ke Demit's name practically blew on the air around us. Prince Mati grimaced and nodded. "Makes sense," he mumbled. His quill scratched over his paper. "All right," he said at last. "If you do the pantomime, I'll . . . teach you myself."
2. When the attraction between Raisa and Mati becomes too much to pretend away:
I had nothing else to say, but I didn't step away, even as I flushed at his nearness. Annis Rale was delivering a long speech as Gyotia on the other side of the partition, but my ears weren't working right—instead of his strident voice, all I could hear was the prince's uneven breathing.
And then Prince Mati touched my arm. My skin went hot all over as his warm fingers moved hesitantly up to my neck, then to my cheek, and I was paralyzed, horrified only at how much I hoped he wouldn't move away. He shifted closer in the darkness.
"Raisa," he whispered.
This couldn't be happening. This couldn't happen.
3. When Raisa defies the oracle of the gods to save a little girl:
Fire licked the bone, and it seemed ages that I stood there, waiting. At last a gentle pop broke the silence. I watched the cracks of the symbol widen and lengthen, and two side-facing triangles appeared, one lower than the other. Red.
The girl on the left had copper curls. Red. The oracle had been more than clear this time.
I looked back down at the bone, not considering what to do, but steeling myself to do it. If the oracle was truly the word of the gods, then how would they react if I ignored their word?
At last I spoke. "The choice is made," I said, turning my head nominally toward Mati. I caught his nod out of the corner of my eye, and I dropped the bone into the fire and swept up the green sash from the table as I stepped in front of Jera.
The roof did not fall in. Lightning did not strike.
But a mild voice to my right said, "If I may speak, Your Majesty?"
4. When Mati and Raisa, now estranged, are thrown back together:
"So," Mati said at last, "are you going to tell me why I lied for you today?"
Of course—why else did I think he had come?
"I told you I wanted to find girls in bad situations," I said. "All I can say is . . . it had to be Jera."
He nodded slowly. The six feet between us felt like an uncrossable ocean.
He reached into his pocket and held something out to me—the burned and blackened ox bone from the ceremony. "I thought you'd want to destroy it," he said, turning it over. The original lines had split again and again in the heat of the flames, but I could still see the triangles if I looked hard. When I made no move to take it, Mati laid the bone on the bed.
"That's twice in two days that I owe you thanks," I said. "I am sorry if I've . . . caused difficulties for you, Your Majesty."
He took three steps toward me, bridging half the distance, and held up a hand. "Don't . . . do that, please. I can't stand it, not from you."
I stared at him. "I haven't forgotten who you are, or who I am."
5. When Mati confronts Raisa about her betrayal:
"I don't understand . . . why I wasn't executed."
Mati stayed silent for so long that I had to open my eyes to see his face. He was still looking at me neutrally, but I saw something break in his eyes. "Rale had no proof of anything."
He was still trying to believe in me, even now. It was almost too much to bear. "But I did help the Resistance," I croaked. "You know I did."
Mati only slumped back in the chair, looking exhausted. I pressed my forehead into the bed. Only when I felt the cold, damp sheet below my face did I realize that I was crying.
Mati didn't say anything, only took up a tub of ointment and began to apply it gently to my wounds. For some time the only sound was my pathetic shuddering sobs.
"How long?" Mati finally said, when I had subsided into sniffles. I looked up at him, but his attention was on his hands at my back. "The whole time we—does that mean you were—" His fingers pressed too hard into a gash near my spine, and I cried out.
---
Kathy MacMillan is a writer, American Sign Language interpreter, consultant, librarian, signing storyteller, and avowed Hufflepuff. Her debut young adult novel, Sword and Verse, explores questions of power and prejudice in an epic fantasy setting, and has been called "fascinating and unique" by National Book Award finalist Franny Billingsley. Kathy is the founder of The Sweet Sixteens (www.thesweet16s.com) debut group of 2016 middle grade and young adult authors, and serves as the Published and Listed Member Coordinator for the Maryland/Delaware/West Virginia Region of the Society for Children's Book Writers and Illustrators. She is also the author of eight resource books for educators, librarians, and parents, including Little Hands and Big Hands: Children and Adults Signing Together (Huron Street Press, 2013). She lives near Baltimore, MD with her husband, son, and a cat named Pancake.
5 Winners will receive a finished copy of SWORD AND VERSE. US Only.
a Rafflecopter giveaway