---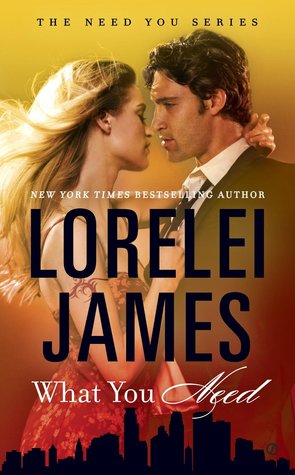 What You Need
Need You #1
Author: Lorelei James
Reading Level: Adult
Genre: Contemporary Romance
Released: January 5th 2016
Review Source: Signet
New York Times bestseller Lorelei James introduces a new family for readers to fall in love with in the Need You series. The Lund name is synonymous with wealth and power in Minneapolis-St. Paul. But the four Lund siblings will each discover true love takes a course of its own…

As the CFO of Lund Industries, Brady Lund is the poster child for responsibility. But eighty hour work weeks leave him little time for a life outside his corner office. His brothers stage an intervention and drag him to a seedy night club...where he sees her, the buttoned up blonde from the secretarial pool who's starred in his fantasies for months.

Lennox Greene is a woman with a rebellious past—which she carefully conceals beneath her conservative clothes. She knows flirting with her sexy, but aloof boss during working hours is a bad idea. So when Brady shows up at her favorite dive bar, sans his usual snappy suit, and catches her cutting loose, she throws caution aside and dares him to do the same.

After sparks fly, Brady finds keeping his hands off Lennox during office hours is harder than expected. While she makes him feel alive for the first time in years, a part of him wonders if she's just using him to get ahead. And Lennox must figure out if Brady wants her for the accomplished woman she is—or the bad girl she was.
Lennox had a hard childhood and was on her own at an early age. With all the responsibilities to take care of herself. She had never really knew what love was or felt like and hadn't had many relationships. She had life plan out and she knew she would do anything to make it happen.
Brady grew up wealthy and in a great family, he has everything anyone could dream of. Brady is an attractive man who doesn't see himself in a real relationships. He is not that type. Until he meets Lennox. They are opposite, yet they have so much alike. They start learning about each other and when there is sparks, the trust is real.
What I enjoyed most about What You Need is seeing Lennox and Brady learn to trust each other and falling in love. They are the type of couples that are willing to risk it all and have fun while doing it. Lennox had her wild days when she was younger and she pretty much has covered up that part of her life. However, when she is with Brady, she gets loose and teaches him how to do the same thing. They might be from different sides of the track but they were made for each other, even if at first they both have doubts.
This book is fantastic and an easy read. If you enjoy books, with hot CFO, who is very determined to make everyone proud and is a loving and caring man... Then you will fall in love with Brady. As well as Lennox. As she is a woman who has had a hard life but tries her best to make it all work. Read and enjoy this love story.