---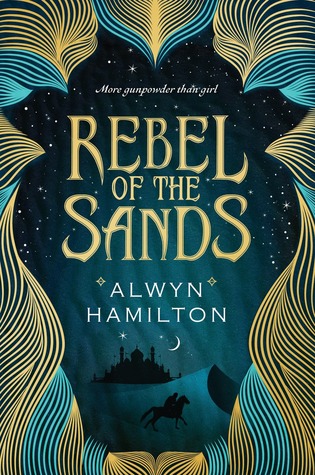 Rebel of the Sands
Rebel Of The Sands #1
Author:
Alwyn Hamilton
Reading Level: Young Adult
Genre: Fantasy
Released: March 8 2016
Review Source: Viking Books for Young Readers
She's more gunpowder than girl—and the fate of the desert lies in her hands.

Mortals rule the desert nation of Miraji, but mystical beasts still roam the wild and barren wastes, and rumor has it that somewhere, djinni still practice their magic. But there's nothing mystical or magical about Dustwalk, the dead-end town that Amani can't wait to escape from.

Destined to wind up "wed or dead," Amani's counting on her sharpshooting skills to get her out of Dustwalk. When she meets Jin, a mysterious and devastatingly handsome foreigner, in a shooting contest, she figures he's the perfect escape route. But in all her years spent dreaming of leaving home, she never imagined she'd gallop away on a mythical horse, fleeing the murderous Sultan's army, with a fugitive who's wanted for treason. And she'd never have predicted she'd fall in love with him...or that he'd help her unlock the powerful truth of who she really is.
Rebel Of The Sands is all about a girl finding her place in the world. Along the way she realizes that the fairytales of her childhood are actually the reality of the world. Unsure how to make her way on her own she finds a companion in Jin, although he keeps himself guarded from the outside world.
This book. I'm positive many books have made me love them on the spot. This book makes me wish I knew exactly what was going to happen next. I need the sequel as soon as possible...preferably yesterday. And I need more Jin...because....well....who isn't a fan of a swoon worthy character?
This book reminds me of a modern day Aladdin, but our hero is a female. A strong female, who has to sometimes pretend to be a boy just to get the respect that she deserves. In that respect this story is like Mulan. Sorry - for some reason this book brings out the Disney kid in me.
You will get taken on a magical adventure as you root for Amani to make her way into the world and away from her family. A family that wants to keep her as miserable as possible, and doesn't necessarily love her. When you meet Jin you will immediately fall in love with him, he's a mysterious man who is most definitely drop-dead-gorgeous. And their relationship is honestly one of the best I've ever read. I love when couples are adorable when they're together. But I absolutely love when couples challenge each other. And Amani and Jin definitely challenge one another.
There are twists and turns that will just make you more enticed by the story. I was completely wrapped up in the story when the first twist came. I seriously gasped and that was the moment that I realized I loved this book. It introduces readers to a whole new world, and makes you want to set up camp.
Enter this epic giveaway hosted by PenguinTeen! 5 winners will receive: hardcover of REBEL OF THE SANDS, PenguinTeen tote bag, and a Shimmering Hourglass. US Only
a Rafflecopter giveaway