Welcome to our stop on The Girl from Everywhere tour for Heidi Heilig. This tour is hosted by
Rockstar Book Tour.
---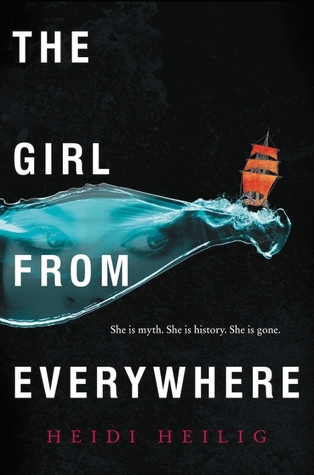 The Girl from Everywhere
The Girl from Everywhere #1
Author: Heidi Heilig
Reading Level: Young Adult
Genre: Fantasy
Released: February 16th 2016
Publisher: Greenwillow Books
The New York Times bestselling author of the Out of Line Novels takes readers to Boston, where one gang of criminals knows how being bad can be so good...

She knows what he's like on Boston's mean streets. Now she's going to find out if he's got some heart.

Lucas Donahue is not ashamed of his criminal past, but after a brief stint in prison, he's ready to go legit and live a normal life. The problem is, no one leaves the gang without permission—even if he is one of the boss's top men. Plus someone's placed a hit on him. And then there's that feisty little bartender who's going to cause him even more trouble.

Heidi Greene knows to keep her distance from a ladies' man like Lucas—even if she can't keep her eyes off him. When he rescues her from an attack in the alley outside her bar, she's forced to stay by his side for safety. But the longer she spends time with him, the greater her chances are for getting hurt in more ways than one.
Interview
Can you tell us a little bit about yourself and your books?
When I was fifteen, I fell desperately in love with a boy I saw across campus. At 17, I moved away without ever telling him how I felt, and for the next five years I regretted that. Thankfully my own story has a happy ending, but ever since then, I've been obsessed with regret and time travel and true love, and it shows in my writing. THE GIRL FROM EVERYWHERE is a story about Nix, who lives aboard a time travelling pirate ship. Her father uses maps to journey to places out of myth and history, but all he really wants in the world is to go back to 19th century Hawaii to save her mother, who died in childbirth. Of course, this puts Nix's entire existence at risk, not to mention her relationship with her best friend, the charming thief Kashmir, who she met in a mythical version of Persia. She has to decide whether to help save her mother's life at the risk of erasing her own.

What do you think makes a good story?
I've always loved impossible dreams or against-all-odds quests. Characters who are facing almost certain defeat and yet still set out on the journey are my very favorite sorts.

Which character in your book can you relate to the most, and why?
While the main character, Nix—a half-chinese lover of history and myth—is definitely an aspect of me, the character who is most relatable is actually the opium addict and terrible father, Captain Slate. He's bipolar, like I am, and lets his passions get the best of him, careening from wonder to despair. And in spite of it all, I hope he's forgivable by the end.

Who was the first person you called when you found out you were going to be published?
My husband was in the room already, as was his old college buddy Tomm, who was staying with us on a visit from California, but after I screamed the news at them, I called my mom (of course!) She's the one who encouraged me to follow my passion. She's also the smart one who told me I should try to get an agent and actually get published (I had written the manuscript "just for fun.") She's a fantastic inspiration, a very smart business person and an amazing writer herself—I had to share the news with her.

Is there any particular author or book that influenced you in anyway either growing up or as an adult?
Sir Terry is a perennial favorite, though I could never be 1/100th as hilarious as he was. But I loved his absurdist take on things, and how most of his themes were so poignant: you were laughing as your heart broke.
---
Heidi grew up in Hawaii where she rode horses and raised peacocks, and then she moved to New York City and grew up even more, as one tends to do. Her favorite thing, outside of writing, is travel, and she has haggled for rugs in Morocco, hiked the trails of the Ko'olau Valley, and huddled in a tent in Africa while lions roared in the dark.
She holds an MFA from New York University in Musical Theatre Writing, of all things, and she's written books and lyrics for shows including The Time Travelers Convention, Under Construction, and The Hole. She lives in Brooklyn with her husband and their pet snake. They do not own a cat.
Photo by Adrian Buckmaster
2 winners will receive a finished copy of THE GIRL FROM EVERYWHERE. US Only.
a Rafflecopter giveaway