Welcome to our stop on Skylighter tour for Becky Wallace. This tour is hosted by
Rockstar Book Tours
.
---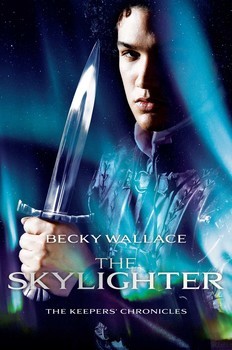 Skylighter
Author: Becky Wallace
Reading Level: Young Adult
Genre: Fantasy
Released: March 22 2016
Review Source: Margaret K. McElderry Books
Johanna and Rafi are in a race against time to save their country before a power-mad Keeper destroys everything they hold dear in the "enthralling magical world" (Cinda Williams Chima, author of The Heir Chronicles) introduced in The Storyspinner.

As the last of the royal line, Johanna is the only person who can heal a magical breach in the wall that separates her kingdom of Santarem from the land of the Keepers, legendary men and women who wield elemental magic. The barrier protects Santarem from those Keepers who might try to take power over mere humans…Keepers who are determined to stop Johanna and seize the wall's power for themselves.

And they're not the only ones. As the duchys of Santarem descend into war over the throne, Johanna relies more than ever on the advice of her handsome companion, Lord Rafael DeSilva. But Rafi is a duke too, and his people come first. As their friendship progresses into the beginnings of a tender relationship, Johanna must wonder: is Rafi looking out for her happiness, or does he want the throne for himself?

With war on the horizon, Johanna and Rafi dodge treacherous dukes and Keeper assassins as they race to through the countryside, determined to strengthen the wall before it's too late…even if it means sacrificing their happiness for the sake of their world.
---
What did you enjoy most about writing The Skylighter?
The action scenes! And the kissing scenes…but I guess that's just a different sort of action. ;)
How is the cover of The Skylighter a good fit for the book?
There are a few really cool elements of the cover that are hard to understand until you read the book! The colors are taken from what the Keepers see when they look at the magical wall that protects Santarem. The leather armor that the model is wearing is exactly what I
pinned
when I was looking for inspiration. My editor, Annie Nybo, actually laced the bracers herself!
Were any characters in the book inspired by people in your life?
Sort of? I stole bits and pieces of real life people and intermingled them. Take Dom for instance. I can say that I dated a darkly handsome, charming, witty, player in college. I'd love to say that particular college boyfriend was deeply caring and a little self-conscious underneath, but no. Dom—thank heavens—is more three dimensional than that real-life person!
What is your favorite scene in The Skylighter?
I have a few. The easy answer is The Inn Scene (Chapters 4 and 5) because it involves kissing. BUT there are two other scenes that I'm super proud of! One I call The Heartbreaker (Chapter 46. You'll get the title when you read it!) and the other is The Interrogation Scene (Chapter 62). Those two scenes made me feel sick for my characters. And I think when you feel empathy for a fictional person, then that character has become real!
Do you incorporate yourself into your characters? If so, which character are you most like?
Johanna has some of my better characteristics and maybe one of my worst ones. She's intensely devoted to her family, and will do anything to protect them. But she also really hates to lose an argument. I mean...sometimes I'm just right, you know?
What is the hardest line to write - the first or the last?
I never struggle with beginnings or endings, but middles kill me. I want to quit middles, usually because I have SO many things going on and I need to make sure that all the threads are coming together at the right points with the right impact. Middles are jerks.
What is an unknown fact about The Skylighter?
It was the longest first draft I've ever written, and I'm a notoriously short drafter! The version of THE STORYSPINNER I submitted to my editor was a very tight 72,000 and it went to print at…98,000? THE SKYLIGHTER's first draft was 111,000 and we cut it down to 98,000. Cutting was a lot more painful than adding.
Where's your favorite place to write?
In my bed. For real. I can shut the door and pretend that there are no dishes to do, or floors to sweep, or meals to make. It does have a downside of being a little too cozy. I can't tell you how many times
I've woken up with my laptop still on and a kink in my neck.
At what point in the development of an idea do you know that it will become a full-length novel?
When it's finished. I hate to admit it, but I'm such a QUITTER. Remember when I said middles were jerks? Well, sometimes they're draft killers too. I have two unfinished manuscripts that are
60,000 plus words, and I can't make myself finish them. I can't turn my inner editor off long enough to ignore the mistakes in the early parts of the books and just write the darn endings. It's ridiculous. I know.
What's the hardest part of being a writer?
Making time to write. I have four children age ten and younger. Actively writing means that I'm ignoring things that need to get done. Like laundry. I'm sitting next to a pile of unfolded kids clothes right now as I type this (it smells great, btw).
Unless you are independently wealthy and have no commitments, you have to give up something—exercise, television, friends, sleep, fresh food—if you really want to pursue your dreams. When people say, "I'd really like to write a book someday, but I just don't have time," I have to bite my tongue. A snippy, sassy part of me wants to wave to my car full of cleats, dance shoes, sports equipment, and three car seats, and then point to the iPad wedged between me and the steering wheel. I don't have time to write either. I make it.
---
In second grade, Becky Wallace had to sit in the corner because she refused to write anything besides princess stories and fairy tales (and because she talked too much). Her time in isolation gave her plenty of opportunities to dream up the fantasy worlds she's been dabbling with ever since. She was lucky enough to find her own, real-life prince charming. They have four munchkins and live in a happy little town outside Houston, Texas.
Tour Schedule:
Week One:
Giveaway Details:
5 winners will receive autographed SETS of STORYSPINNER and SKYLIGHTER with swag, US Only.
10 will receive swag sets, US Only.
a Rafflecopter giveaway