---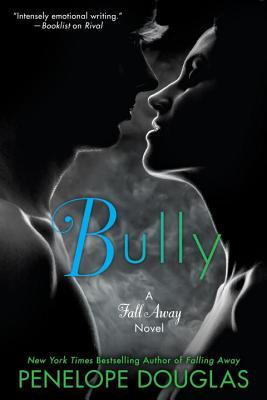 Bully
Fall Away #1
Author:
Penelope Douglas
Reading Level: New Adult
Genre: Romance
Released: January 5th 2015
Review Source: New American Library
My name is Tate. He doesn't call me that, though. He would never refer to me so informally, if he referred to me at all. No, he'll barely even speak to me.

But he still won't leave me alone.

We were best friends once. Then he turned on me and made it his mission to ruin my life. I've been humiliated, shut out, and gossiped about all through high school. His pranks and rumors got more sadistic as time wore on, and I made myself sick trying to stay out of his way. I even went to France for a year, just to avoid him.

But I'm done hiding from him now, and there's no way in hell I'll allow him to ruin my senior year. He might not have changed, but I have. It's time to fight back.

I'm not going to let him bully me anymore.
If you're like me and loooove an angsty romance,
Bully
is going to be something you want to immediately pick up. The tension between Tate and Jared had my stomach in knots and had me questioning my morals. I mean to be quite frank with you Jared was evil. Literally, he was a bully. He made it his life's mission to make Tate's high school experience miserable. So you would think I wouldn't love it, I hate bullying, but damn you Penelope Douglas you sucked me in and had me throwing all my previous reservation to the wind.
Okay, let me paint you a little picture about
Bully
. First Tate moves in next to Jared when they're in grade school, Tate and Jared become best friends, then something happens, and the bullying ensues. For her junior year Tate spends a year abroad in Europe, no Jared, no bullying. But she's back for senior year and she's got her "ain't takin' no shit pants' on and starts to stand up against her bully which ignites that sweet unadulterated angsty tension we all know and
crave
!
So yeah, this book's main guy was most definitely an ass. But we know this, he knows this, she is clearly not oblivious to the fact, but there's history, another story to be told. And you just have to read it to find out how it all unfolds. Good luck to you kind romance reader, I needed chapter breaks because their story had my stomach in knots, but those are my favorite kind of books!