---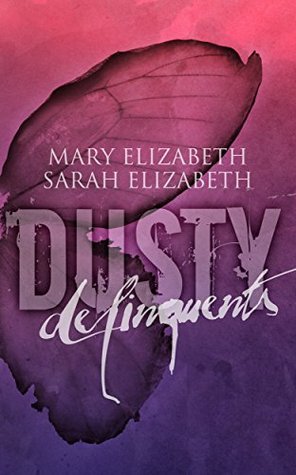 Delinquents
Dusty #2
Author: Mary Elizabeth & Sarah Elizabeth
Reading Level: New Adult
Genres: Contemporary Romance
Released: October 22nd 2014
Review Source: Purchased
The innocent girl with a delinquent heart has to live with her bad choices. Secret hope and hurt feel like falling while she learns how to breathe again, but there's still freedom in trouble.



The runaway with blacked-out eyes is losing his grip. Crushing two hearts in one fist, his addiction bends rules and breaks deals, but the boy born for bliss isn't going anywhere without a fight.

Love is knowing they should stay away, but love is illogical at best.

She's afraid to let go.

He won't let her.

This is how silliness and foolishness grow up.

Here, forever is a lie.
Every once in a while you come across a series that is very unassuming. It appears to be your typical YA/Romance coming of age, boy meets girl, boy and girl fall in love, some drama ensues, and in the end they have their happily ever after. That is exactly what I thought when I first began reading this series with book one titled Innocents (The Dusty Series by Mary Elizabeth). Well half way into the first book I started to see the shift and I started to realize this wasn't just another typical YA book. By the end of the first book I was already biting my nails to the bone in anticipation and stress over where the characters were leading us.
Well book two of this series, Delinquents, picks up where the first book left off. Right from the very beginning on page one we are thrown into the fire with these characters. The story follows Leighlee "Bliss" McCloy and her secret relationship since she was about eleven years old with Thomas "Dusty" Castor. In this book they are both into their teenage years and the angst factor is just amped. Dusty has so many issues with drugs and alcohol and this in turn causes him to treat Bliss horribly at times, yet underneath his addiction and pain he truly loves her more than anything he has ever loved in his life. She is the only light in his life but he struggles to make good decisions and constantly does things that little by little are tearing her down and leaving her broken. In turn, like so many people who love an addict, Dusty becomes Bliss' addiction. Just as much as his drugs and addiction are killing him and bringing him down, her addiction of him is doing just the same thing to her. The author does a really amazing chapter towards the end of this story that shows just how parallel they both are physically and emotionally in his addiction to drugs and her addiction to him. To top this off they have kept their relationship secret since they were kids because Bliss' best friend is Dusty's sister and she doesn't want to lose the friendship, and her parents also wouldn't approve of her with Dusty. So not only are they dealing with all this whirlwind of drama and sickness, but they have to do it in secret and then put on their game faces to those around them so as not to attract suspicion.
I hate to say that this story was emotionally draining and that I broke down in tears on more than one occasion, because I don't want to deter people from taking on something that is a bit deeper than usual. This is truly a book series worth reading. Sometimes I think we need to push ourselves into feeling a little uncomfortable and not relying on that typical formula that most books follow in order to feel something a little more real. Life is not always a Rom-Com. Life has ups and downs, life has tears and heartache. We don't just get the glossy description of despair in this book…we get the nitty gritty details that really caused me to feel it down to my bones. Someone asked me if there was a happily ever after in this story before she would know if she could read it. I said in all honesty that to say yes or no either way would be misleading. I will say that we aren't necessarily left one way or the other. What we are left with is hope, and I think that is the most realistic ending to a series I have read in a long time.
I give this book and series as a whole 100 stars (which would be 5 stars here)! Pull up your big boy and girl pants and take a chance on something that I promise will touch your soul, make you think, and give you the chance to look around at what is good in your life and not take it for granted.