Welcome to the last stop on Rebel of the Sands tour for Alwyn Hamilton. This tour is hosted by
PenguinTeen
.
---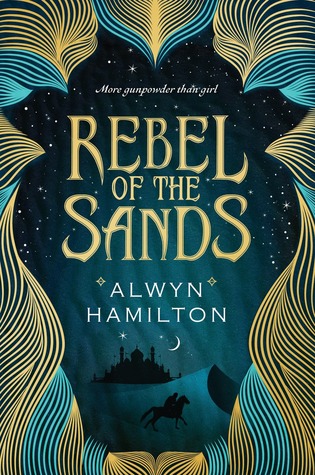 Rebel of the Sands
Rebel Of The Sands #1
Author:
Alwyn Hamilton
Reading Level: Young Adult
Genre: Fantasy
Released: March 8 2016
Publisher: Viking Books for Young Readers
She's more gunpowder than girl—and the fate of the desert lies in her hands.

Mortals rule the desert nation of Miraji, but mystical beasts still roam the wild and barren wastes, and rumor has it that somewhere, djinni still practice their magic. But there's nothing mystical or magical about Dustwalk, the dead-end town that Amani can't wait to escape from.

Destined to wind up "wed or dead," Amani's counting on her sharpshooting skills to get her out of Dustwalk. When she meets Jin, a mysterious and devastatingly handsome foreigner, in a shooting contest, she figures he's the perfect escape route. But in all her years spent dreaming of leaving home, she never imagined she'd gallop away on a mythical horse, fleeing the murderous Sultan's army, with a fugitive who's wanted for treason. And she'd never have predicted she'd fall in love with him...or that he'd help her unlock the powerful truth of who she really is.
---
List of 10 Favourite Things
(after eliminating the obvious like family, laptop, phone, books etc.)
Tote Bags
I live in San Jose, CA, a pleasantly geeky place with some lovely scenery hidden in among tech companies. I'm trying to figure out how I can become some sort of professional Clue player, because I'm obsessed with the game Clue and have sworn to play every version of it ever. Most recently I played the Dr. Who version, which is great because it gives you a perfectly good reason to say, "I'm taking the secret passageway to the moon."
Facial Masks
I know. It'd a gorgeous selfie. Try not to fall in love with me. I'm not usually the type to spend masses on expensive products. But there is one which as best I can tell, is made of mud and pure magic. I stock up every time I see it in a store.
A Clothes Dryer
I have no patience and no iron so if I didn't have a clothes dryer I would literally always be vaguely damp and rumpled. I decided within a month of moving to London I wouldn't be able to survive with the English habit of hanging clothes. I bought a Tumble Dryer and I have stubbornly found a place for it in every flat since. It has lived in my closet, on a precarious shelf by the boiler, and now in my bathroom balanced on top of some box files. Because adulthood.

Coffee
Coffee is my multi purpose tool. I write in cafes, almost entirely, and so I have to order a coffee to sit there. When I had a 9 to 5 it was a procrastination tool (making a coffee or going out to buy one is a great way to waste 15 minutes) as well as a good crutch in meetings (I never went to a meeting without a coffee, it gave my hands something to do other than sit on the boardroom table looking prim or having my arms crossed looking judgemental or sullen). It's a hand warmer in winter. And I mean, the kick in the system when I need to get going isn't bad either.
Wireless Headphones
I work best in crowded cafés. But I also don't work that well with noise and distractions. I have a set of wireless headphones which are particularly good at blocking out the world. So much so that I once had a barrista apologize to me for the crying baby in the café for the last hour. I hadn't heard, instead spending the past hour writing a kissing scene.
Disney's Mulan
Hands down my favourite Disney Movie. I was 9 when Mulan came out in Cinemas and I couldn't tell you how many times I've seen it since. But first times matter, they stick with you. And Mulan was the first time I got to see a girl kick some butt on screen and the first time I can think of that gender equality as an issue was put in front of me quite so clearly. Also, "I'll Make a Man out of You" is the best Disney song ever.
Notebooks
I write in MS word but I plot on paper. Something about doing it in ink by hand helps me work through a problem. When I was back in my teen bedroom recently I found stacks and stacks of notebooks scribbled with story ideas and half written scenes and plots and rambling stream of consciousness. Even now on my bookshelf there are about 8 notebooks on the go, squeezed between books.
Duvet
Like the dryer, one of few large items I actually own. Somehow when I moved to London I got packed off with a light summer duvet. I was constantly cold and too broke to think about a new one. Finally my parents came to visit and took pity on me and bought me one. It is my favourite thing in the world and has contributed to more than a few Sundays spent in bed with a book. And I actually CAN change a duvet cover on my own…now.
Ella Enchanted by Gail Carson Levine
Somewhen in the Princess Bride, William Goldman says of the (fictional) S. Morgenstern Epic that it's "my favorite book in all the world, though I have never read it." Ella Enchanted is that for me. I had Ella Enchanted on Audio Cassette when I was a kid. I listened to it more times than I can count. It was the thing I listened to when I was trying to fall sleep, when I was cleaning my bedroom, when I was sick. It was my go to comfort read. I know it so well, when I finally did get a paperback in my 20's and sit down to read it, I read it all in the voices of the audiocassette.
Taylor Swift
I have a well documented Taylor Swift Love. I loved Taylor Swift before it was cool to love Taylor Swift. I usually buy songs not whole albums. T-Swizzle is the exception. I cannot even figure out how to sync my iPhone with my writing playlists but you'd better believe I've got all my Tay-Tay onto that phone.
---
Alwyn Hamilton was born in Toronto and spent her childhood bouncing between Europe and Canada until her parents settled in France. She grew up in a small town there, which might have compelled her to burst randomly into the opening song from Beauty and the Beast were it not for her total tone-deafness. She instead attempted to read and write her way to new places and developed a weakness for fantasy and cross-dressing heroines. She left France for Cambridge University to study History of Art at King's College, and then to London where she became indentured to an auction house. She has a bad habit of acquiring more hardcovers than is smart for someone who moves house quite so often.