---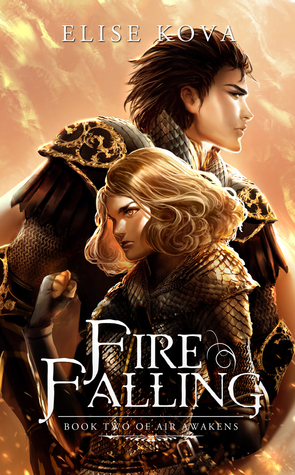 Fire Falling
Air Awakens #2
Author: Elise Kova
Reading Level: Young Adult
Genre: Fantasy
Released: November 19th 2015
Review Source: Silver Wing Press
Soldier… Sorcerer… Savior… Who is Vhalla Yarl?

Vhalla Yarl marches to war as property of the Solaris Empire. The Emperor counts on her to bring victory, the Senate counts on her death, and the only thing Vhalla can count on is the fight of her life. As she grapples with the ghosts of her past, new challenges in the present threaten to shatter the remnants of her fragile sanity. Will she maintain her humanity? Or will she truly become the Empire's monster?
Who is Vhalla Yarl? Is she a soldier as the Emperor has condemned her to be? Is she a sorcerer as she was training to become, one with the black legion? Or is she possibly a savior, of the kingdom or of Prince Aldrick?
Vhalla isn't so sure whats going on around her, she's just been going through the motions of daily life. Having left the library and no longer apprenticing there, everything's changed, from her foundation to her friends. Preparing for the eminent war is all she can do now. Vhalla hopes to keep her head held high, for those naysayers and show everyone she can meet the challenge, but even she doesn't believe in her bravado. If she doesn't break from the constant pressure, she might just make it to the battlefield. No longer a library apprentice, and still an outcast as a wind-walker within the tower for mages. Vhalla isn't sure where her place is, and can't seem to tap into her magic, maybe with Aldricks assistance things can fall into place. That will be easier said than done under the Emperors disconcerting gaze.
I cannot begin to say how much I enjoyed this book, this series is amazing. I re read from the beginning today around 10 am and just finished the book right now at 10 pm. Yes, twelve hours of reading, thank god I have the third book in my hands or my heart would be breaking (very much like Vhalla's come to think of it). I was fortunate to have the opportunity to meet Elise Kova on January second 2016, over tea and coffee. She signed my copy of Fire Falling, thank you!