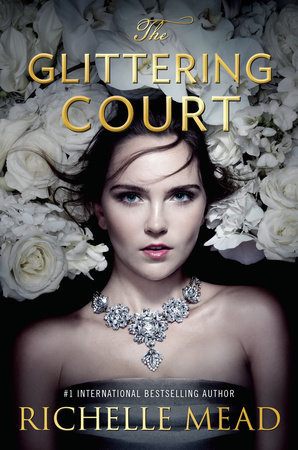 The Glittering Court
The Glittering Court #1
Author: Richelle Mead
Release Date: April 5th 2016
Publisher: Razorbill
A dazzling new fantasy series set in a mix of Elizabethan and frontier worlds that's dripping with romance from Richelle Mead, #1 internationally bestselling author of Vampire Academy.

Big and sweeping, spanning the refined palaces of Osfrid to the gold dust and untamed forests of Adoria, The Glittering Court tells the story of Adelaide, an Osfridian countess who poses as her servant to escape an arranged marriage and start a new life in Adoria, the New World. But to do that, she must join the Glittering Court.

Both a school and a business venture, the Glittering Court is designed to transform impoverished girls into upper-class ladies capable of arranging powerful and wealthy marriages in the New World. Adelaide naturally excels in her training and even makes a few friends: the fiery former laundress Tamsin and the beautiful Sirminican refugee Mira. She manages to keep her true identity hidden from all but one: the intriguing Cedric Thorn, son of the wealthy proprietor of the Glittering Court.

When Adelaide discovers that Cedric is hiding a dangerous secret of his own, together, they hatch a scheme to make the best of Adelaide's deception. Complications soon arise—first, as they cross the treacherous seas from Osfrid to Adoria, and later, when Adelaide catches the attention of a powerful governor.

But no complication will prove quite as daunting as the potent attraction simmering between Adelaide and Cedric. An attraction that, if acted on, would scandalize the Glittering Court and make them both outcasts in wild, vastly uncharted lands. . . .
If I'd the opportunity to start at a Glitter Court, I would like to attend one that reminds me of Stadium High School. I've been obsessed with this building... school, ever since
10 Things I Hate About You
was filmed there. It's such a beautiful place to study! Just look at the architect! Who wouldn't want to attend and learn at this school?
Thanks Bri, for getting these pictures to feature them on this post.
Having Stadium High School as my Glittering Court would be great. However, this experience would be better if I had these fictional characters attend with me.
BLAIR WALDORF, SYDNEY SAGE AKA SYDNEY IVASHKOV, ROSE HATHAWAY, CLEIONA BELLOS & DAENERYS TARGARYEN.
I would be in the best company with these amazing characters. The things I would learn from them! To be friends, keep their secrets and have their best interest. Oh gosh, I am fangirling here!
As far as Gemstone, I am not a fan of my birthstone since it's pink. I do like ruby as red is my favorite color. And Mira is adorable in the story. However, when I realized Penguin Teen has a test at Buzzfeed to take to learn my jewel type, I had to take it. My result is not what I'd expected. If you click the picture below you can learn your jewel!
Emerald
Like Tamsin, you're goal-oriented, driven to be the best, and will do anything for your family.
HA! I loved Tamsin. I loved her ambitious ways and the fact that she's so clever. So I was happy with this result.
What would be your Glittering Court?
Tell us below!