---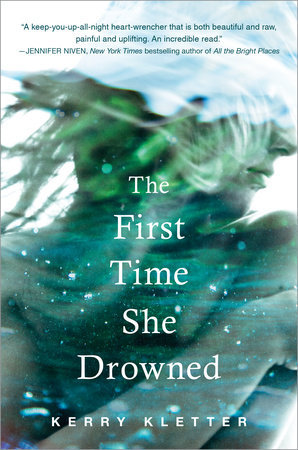 The First Time She Drowned
Author:
Kerry Kletter
Reading Level: Young Adult
Genre: Contemporary
Released: March 15, 2016
Review Source: Philomel Books
The beautiful struggle of a girl desperate for the one relationship that has caused her the most pain.

Cassie O'Malley has spent the past two and a half years in a mental institution—dumped there by her mother, against her will. Now, at 18, Cassie emancipates herself, determined to start over. She attends college, forms new friendships, and even attempts to start fresh with her mother. But before long, their unhealthy relationship threatens to pull Cassie under once again. As Cassie struggles to reclaim her life, childhood memories persist and confuse, and Cassie must consider whose version of history is real, and more important, whose life she must save.

A bold, literary story about the fragile complexities of mothers and daughters and learning to love oneself, The First Time She Drowned reminds us that we must dive deep into our pasts if we are ever to move forward.
This book made me FEEL. The First Time She Drowned is a very dark and somber read, but it is very beautifully written. Kerry Kletter knows how to make you angry and sad, she knows how to pull at your heart strings and make you cry. Her words are incredible.
I didn't know what to think of Cassie at first. Her parents (mother) put her into a mental institution, the doctor she's seen by 100% sides with her mother. So of course I was a bit cautious with Cassie. I wanted to believe she was sane, but I didn't want to be too trusting. (I'm just that kind of person.) I quickly realized Cassie wasn't insane, but she was very, VERY broken. It was hard not to cold heartedly hate the mother. I wanted to rip through the pages and sucker punch her. Being a mother myself, the things she'd do would get to me and hit me hard. How could she do the things she did to Cassie? Kletter dives head in, strongly, and deeply into mental illness. I've read books about mental illness but none as powerful as The First Time She Drowned.
Secondary characters were a hit or miss for me. One I loved- Zoey who becomes her "normal" best friend. Another, while not a big character but one who made a big impact, I found really creepy which was the point. The storyline and setting were all very enjoyable I couldn't put the book down.
The only reason I'm giving it a .5 less rating, is because I called the big root of Cassie's issue before it was revealed. I didn't get that shock value. But this is a solid, SOLID read that everyone should dive into. If anything do it because you enjoy brilliantly written things.