---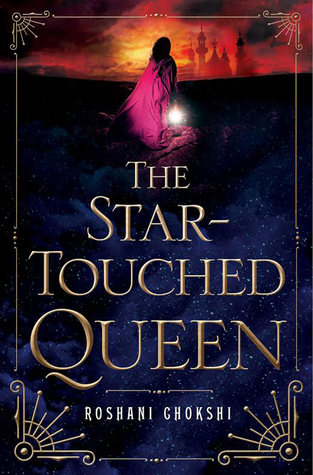 The Star-Touched Queen
Author: Roshani Chokshi
Reading Level: Young Adult
Genres: Fantasy
Release Date: April 26th 2016
Publisher: St. Martin's Griffin
Fate and fortune. Power and passion. What does it take to be the queen of a kingdom when you're only seventeen?

Maya is cursed. With a horoscope that promises a marriage of Death and Destruction, she has earned only the scorn and fear of her father's kingdom. Content to follow more scholarly pursuits, her whole world is torn apart when her father, the Raja, arranges a wedding of political convenience to quell outside rebellions. Soon Maya becomes the queen of Akaran and wife of Amar. Neither roles are what she expected: As Akaran's queen, she finds her voice and power. As Amar's wife, she finds something else entirely: Compassion. Protection. Desire...

But Akaran has its own secrets -- thousands of locked doors, gardens of glass, and a tree that bears memories instead of fruit. Soon, Maya suspects her life is in danger. Yet who, besides her husband, can she trust? With the fate of the human and Otherworldly realms hanging in the balance, Maya must unravel an ancient mystery that spans reincarnated lives to save those she loves the most. . .including herself.

A lush and vivid story that is steeped in Indian folklore and mythology. The Star-Touched Queen is a novel that no reader will soon forget.
I had this book for a while now and waited to read... WHY? Why did I waited to read this book?
This story is fantastic! Clearly this is a must read and I highly suggest everyone to get their copy!
Honestly May is a wonderful character and I love her so much! She's interesting, clever and I just love being in her head. Also, I want to point out that I had a huge dilemma while reading The Star-Touched Queen. I wanted to read it fast, to know everything at once yet I wanted to take my time to understand every detail. AH! Just go read this book and you'll understand.
The Star-Touched Queen is magical, lyrical with an amazing world to explore. The world building is nothing like I'd read before. Hence the reason why I wanted to take my precious time with this baby. The way this world is described... It's so vivid! You want to be there and explore every inch. While reading, I had the same experience as when Daenerys Targaryen is in the House of the Undying. The part when she walks into her throne... The throne she's doing everything to get back. The way she just stands in one place and just stares in awe, even though it's destroyed. When you read The Star-Touched Queen you will feel like you're there and you will want to stay in one spot and analyze this world.
As for Maya and Amar... I don't want to say anything but you all you need to know is they will make you swoon. They're perfect! I love, love, love them together and as individuals. I will stop right now or else I will tell you everything! Including the twists and turns and the mystery... okay, okay, I'll stop for sure.
When I tell you to read a book, it means you need to read it. The Star-Touched Queen is one you cannot put aside. If you do, you'll be mad at yourself for putting it aside, like I did.
Y'all need to read this beauty. A story with mystery, epic characters, romance, actions, deceptions, great pacing... should I continue? The Star-Touched Queen hits the mark of awesomeness and it goes beyond the line. And the best part... this is a standalone! No need to wait for a sequel, no pain, no waiting. Now do yourself a favor and go pre-order The Star-Touched Queen!