---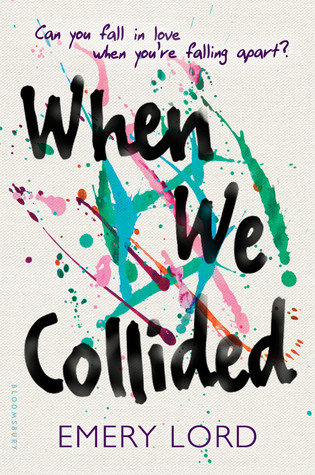 When We Collided
Author:
Emery Lord
Reading Level: Young Adult
Genre: Realistic Fiction
Released: April 5th 2016
Review Source: Bloomsbury USA Childrens
Meet Vivi and Jonah: A girl and a boy whose love has the power save or destroy them.

Vivi and Jonah couldn't be more different. Vivi craves anything joyful or beautiful that life can offer. Jonah has been burdened by responsibility for his family ever since his father died. As summer begins, Jonah resigns himself to another season of getting by. Then Vivi arrives, and suddenly life seems brighter and better. Jonah is the perfect project for Vivi, and things finally feel right for Jonah. Their love is the answer to everything. But soon Vivi's zest for life falters, as her adventurousness becomes true danger-seeking. Jonah tries to keep her safe, but there's something important Vivi hasn't told him.
When We Collided
was
suchhhh
a hard book for me to read, a lot of it hit real close to home. But with that being said I can say how truthfully honest this book was, which is why it took me over a week to read it. I seriously could only do a little at a time especially when it came closer to ending because I knew there was an inevitable downfall and I was terrified.
We've got vivacious Vivi who is spending the summer with her mother in Verona Cove. Vivi is a girl you couldn't forget you met even if you wanted to, you sense her presence, and miss it even more when it's not around. She's bubbly, happy, mysterious, and she is battling some inner darkness.
Jonah Daniels world has changed dramatically since his father's unfortunate death. Not only has he lost his dad but his mother has been so depressed she's isolated herself in her bedroom, leaving the three oldest kids to take care of the three youngest (the Littles). Jonah expected this summer to be filled with making lunches for the Littles, taking care of the Littles, and working at his dad's restaurant. Everything changed the day Vivi walked into his life.
When We Collided
was heartbreakingly beautiful. While it took me time to read it, I never actually wanted to stop. Sometimes I know when I can only take things in small doses and this was one of them. The two characters when brought together become something magical they help each other out, open each other's eyes and give hope that not everything has to be so hard, but these are two characters that have been through heavy ordeals in their life, things they're still figuring out, and refusing to believe.
What I loved most about this book was how real it felt, how raw and invested I became. I felt their growth and I felt the downfall. Plus I this book made me cry and any book that makes me cry is a winner to me.