Welcome to our stop on the
Exile For Dreamers
tour for Kathleen Baldwin. This tour is hosted by
Rockstar Book Tours
.
---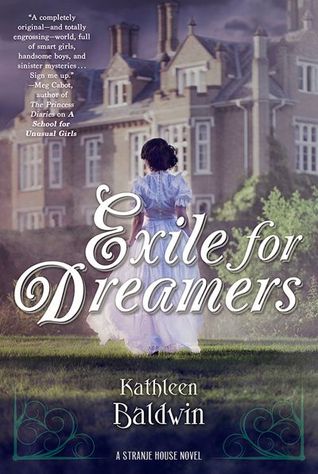 Exile For Dreamers
Stranje House #2
Author: Kathleen Baldwin
Reading Level: Young Adult
Genre: Historical Fiction
Released: May 24 2016
Publisher: Tor Teen
Tess can't run far enough or fast enough to escape the prophetic dreams that haunt her. Dreams bring nothing but death and grief, and Tess refuses to accept that she may be destined for the same madness that destroyed her mother. Until her disturbing dreams become the only means of saving Lord Ravencross, the man she loves, and her friends at Stranje House from Lady Daneska and her lover, the Ghost-agent of Napoleon, who has escaped from Elba. Can the young ladies of Stranje House prevail once more? Or is England destined to fall into the hands of the power-mad dictator?
1.

Tell me a little bit about some of the characters in Exile for Dreamers.

A.

Tess Aubreyson is the main character of EXILE FOR DREAMERS. Tess is fearless. She has to be. Her dreams would have driven a weaker person to madness already. She doesn't realize how strong she is. In my mind, she looks a lot like this actress, Ryan Newman, only maybe a little more rugged. It's as if Tess has one foot in the spiritual realm if you know what I mean. I think that's why animals respond to her so readily.

The book opens with her explaining why she runs:

"I run to escape my dreams. Dreams are my curse. Every night they haunt me, every morning I outrun them, and every evening they catch me again. One day they will devour my soul.

But not today."

2.

What were your biggest challenges in writing Exile for Dreamers?

A.

The dreams. On the first go round, I made them too literal. My editor insisted I make them more obscure. So laying in clues without giving too much away was challenging.

3.

What are some of your quirks that get you in the mood to write? Do you listen to certain music, have a certain area you write at, etc?

A.

Sometimes music will help me to go deeper into the world, but mostly I grab my water jug and sit down and write. I love writing.

4.

What kind of research did you have to do for this book?

A.

Tons. The Stranje House world is peopled with real characters from history. Robert Fulton's nephew is fictitious but all of the details surrounding the steamship and the

5.

Describe your book in 5 words?

A.

Strength, Spies, Danger, Bravery, & Dreams.

6.

What scene in Exile for Dreamers are you most proud of, and why?

A.

I love the scene where Tess tells Miss Stranje about her mother dying. I cried while writing it. I was able to pour many of my own feelings about my mother dying into that scene. (She died after my freshman year.) It was the hardest scene to write, but turned out to be one of my favorites.

7.

Which character in Exile for Dreamers do you relate to most and why?

A.

Naturally, there are aspects of the writer in all their characters. My family and friends insist that Tess is just like me. But that's silly. She's much cooler than I am. They only think that, because I used to be a rock climber and Tess likes to climb. In one scene she climbs two-stories up the stone wall of Ravencross manor.

8.

What's the hardest part about being a writer?

A.

Sitting. I don't do well for very long. I prefer to move around. There's another thing that's difficult for me when I'm on deadline. Stopping and taking the time to listen to my deep thoughts and allowing the story to emerge from there. That's the well from where story magic is drawn.
---
"I love adventure in books and in real life. I've roamed the Rocky Mountains, wandered the desert, enjoyed way too many classes in college, was stalked by a mountain lion, lost an argument with a rattlesnake, fell in love at least a dozen times, finally met and married my very own hero, and together we've raised four free-spirited children." Award-winning author - Kensington published four of Kathleen's Regency romantic comedies, including MISTAKEN KISS, a Holt Medallion finalist. DIARY OF A TEENAGE FAIRY GODMOTHER, was a Golden Quill finalist. Her upcoming Historical YA series with TorTeen, A SCHOOL FOR UNUSUAL GIRLS, is a Junior Library Guild Selection and won a Marlene.
News and more at: www.Kathleenbaldwin.com
Giveaway Details:
3 winners will receive a finished copy of
EXILE FOR DREAMERS
.
US/Canada Only.
a Rafflecopter giveaway
Week One:
5/23/2016- Once Upon A Twilight- Interview
5/24/2016- Stories & Sweeties - Review
5/25/2016- Curling Up With A Good Book- Guest Post
5/26/2016- Lisa Loves Literature - Review
5/27/2016- The Cover Contessa - Interview