---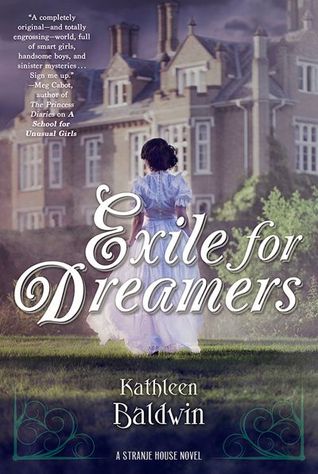 Exile For Dreamers
Stranje House #2
Author:
Kathleen Baldwin
Reading Level: Young Adult
Genre: Historical Fiction
Released: May 24 2016
Review Source: Tor Teen
Tess can't run far enough or fast enough to escape the prophetic dreams that haunt her. Dreams bring nothing but death and grief, and Tess refuses to accept that she may be destined for the same madness that destroyed her mother. Until her disturbing dreams become the only means of saving Lord Ravencross, the man she loves, and her friends at Stranje House from Lady Daneska and her lover, the Ghost-agent of Napoleon, who has escaped from Elba. Can the young ladies of Stranje House prevail once more? Or is England destined to fall into the hands of the power-mad dictator?
Starting basically right where A School For Unusual Girls left off and this time with Tess we're thrown back into the action adventure. With Lady Daneska making plans with the Iron Crown to try and kidnap Georgie, Tess believes that she must stay and protect her and those she loves - including Lord Ravencross. Not wanting to fall asleep and succumb to the horrible dreams that she has, yet needing to get the upper hand, Tess must find in herself the strength to help the girls' bring down Lady Daneska.
I absolutely loved this book. I usually don't enjoy sequels that change point of views. If I'm hooked to a sequel I want the characters I was use to reading from. But because this one picked up right in the (basically) aftermath of what had happened and Georgie was there in that first chapter it made it easier for me to accept that we would be following a new girl.
I want to talk about Lord Ravencross. Oh my goodness. I love him. I want him to worry about me and want to protect me. When he finally is able to explain to Tess how he feels about her - that's when we see a side to Ravencross that we hadn't seen before. And it's a side that I really enjoyed reading.
I was also really enjoying the relationship between Jane and Mr. Sinclair. And at the end of the book you find out that Jane's story is being told in the next book. Which makes me really excited. I can't wait for the next book!
This book had more - in my opinion - action then the last one. A School For Unusual Girls' we had to get caught up on everything. Georgie had assumed that this school was one for torturing young women into ladies who would be suitable for marriage. So to be able to not deal with the setup meant that we could get straight into the story of what was happening with Lady Daneska and the Iron Crown. I felt that, that made this one more action packed and will make readers want to keep reading!