---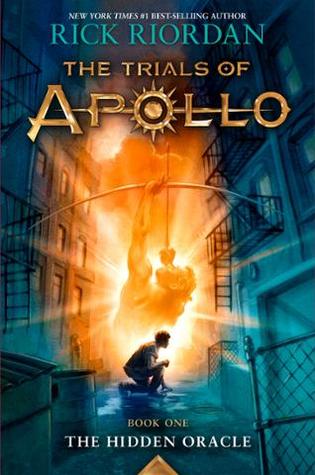 The Hidden Oracle
The Trials of Apollo #1
Author: Rick Riordan
Reading Level: Young Adult
Genre: Fantasy
Released: May 3rd 2016
Review Source: Purchased
How do you punish an immortal?

By making him human.

After angering his father Zeus, the god Apollo is cast down from Olympus. Weak and disorientated, he lands in New York City as a regular teenage boy. Now, without his godly powers, the four-thousand-year-old deity must learn to survive in the modern world until he can somehow find a way to regain Zeus's favour.

But Apollo has many enemies - gods, monsters and mortals who would love to see the former Olympian permanently destroyed. Apollo needs help, and he can think of only one place to go . . . an enclave of modern demigods known as Camp Half-Blood.
Let me start of by saying that it felt so good being back in the world of demigods, gods, and impossible odds! Rick Riordan is a master of words and The Hidden Oracle is no exception.
The story of Apollo's misfortune of being turned human was an interesting one to say the least. Being used to pretty much having control over most anything, waking up and realizing that he didn't have that any more, that he was a mere mortal who couldn't even use nectar and ambrosia to heal, and on top of that being bound to a flighty twelve year old demigod, Apollo sure had a long road back to godhood. There was definitely a lot of humor through out this book, and many times I found myself laughing out loud. Apollo, ever since being further introduced in The Titan's Curse, became one of my favorite gods so I will admit that he is quite self centered and arrogant, for the most part in an endearing sort of way. However, it was nice to see him realize that maybe he wasn't as perfect as he thought and having that character development take him to new discoveries about himself and the life he had as a god. Of course, getting glimpses at the previous series's characters was also one of my favorite parts of this story! We get to see what's been going on with our Seven heroes, as well as the lives of their friends and allies from both Camp Half-Blood and Camp Jupiter.
Hopefully as the series progress we get to see them interact with Apollo a little bit more, especially those like Annabeth, Jason, Piper, Hazel, Frank, and Reyna among others that we didn't see as much in this book. With this story you also get new characters that you can't help but fall in love with. I can't wait to see where the next book takes us, and I can't wait to continue to delve into Apollo's development and see him grow and earn his spot back as a god.