---
Once Upon a Twilight donated books to Mayde Creek Junior High school in Houston, TX recently. And what do you know, three students from the school reviewed a book each and had their Librarian Mrs. Cashman email me. So I am very excited to share with you these reviews and I hope you let them know what a job well done in the comments below.
I'll will post the reviews in order of publication date.
---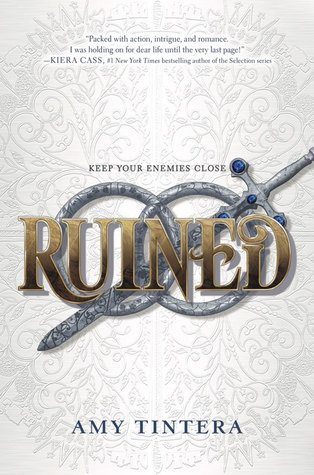 Ruined
Ruined #1
Author: Amy Tintera
Reading Level: Young Adult
Genres: Fantasy | Romance
Release Date: May 3rd 2016
Publisher: HarperTeen
Amy Tintera's new YA fantasy trilogy blends the romance of Kiera Cass's Selection series and the epic stakes of Victoria Aveyard's Red Queen in a story of revenge, adventure, and unexpected love.

Emelina Flores has nothing. Her home in Ruina has been ravaged by war; her parents were killed and her sister was kidnapped. Even though Em is only a useless Ruined—completely lacking any magic—she is determined to get revenge.

Her plan is simple: She will infiltrate the enemy's kingdom, posing as the crown prince's betrothed. She will lead an ambush. She will kill the king and everything he holds dear, including his son.

The closer Em gets to the prince, though, the more she questions her mission. Her rage-filled heart begins to soften. But with her life—and her family—on the line, love could be Em's deadliest mistake.
Reviewed by Julissa Age 11
The Ruined are people with magical abilities. Emelina Flores, or Em, is on the path of revenge. Her family was murdered by Mary, the Princess of Vallos. All she has are her friends, Aren and Damian, and the small hope her sister Olivia is alive. Her plan is to kill the source, the Royal Family of Lera. She is now married to the Prince of Lera so she must choose – risk her life by not killing him or follow the plan?

I think this book is really great for romance addicts and people who like dark books. There were a few parts I had hoped would be more descriptive. I would recommend this to 13 years and up. I wouldn't read this under that age because it's kind of mature.
---
Girl Against the Universe
Author: Paula Stokes
Reading Level: Young Adult
Genres: Contemporary Romance
Release Date: May 17th 2016
Publisher: HarperTeen
From the author of The Art of Lainey and Liars, Inc. comes a fresh, contemporary story about one girl's tragic past and a boy who convinces her that maybe her luck is about to change. Perfect for fans of Sarah Dessen or Jenny Han.

Maguire knows she's bad luck. No matter how many charms she buys off the internet or good luck rituals she performs each morning, horrible things happen when Maguire is around. Like that time her brother, father, and uncle were all killed in a car crash—and Maguire walked away with barely a scratch. But then on her way out of her therapist's office, she meets Jordy, an aspiring tennis star, who wants to help Maguire break her unlucky streak. Maguire knows that the best thing she can do for Jordy is to stay away, but staying away may be harder than she thought.
Reviewed by Corrina Age 12
Maguire has seen bad luck ever since the accident where her father, brother and uncle died and she came out with only a few scratches. Her luck is twisted when she meets tennis star Jordy Wheeler. Maybe there is no such thing as luck.
This book is packed with action, adventure and romance. I was both amazed and touched at the same time. This is one of those books that is a sit-on-your-seat-thrilling-and-I-could-read-this-over-and-over-again!
I would recommend this for ages 11-15.
---
Eleven and Holding
Author: Mary Penney
Reading Level: Middle Grade
Genres: Realistic Fiction
Release Date: June 7th 2016
Publisher: HarperCollins
Macy Hollinquest is eleven years old, and don't count on her to change that anytime soon.

Her birthday is just days away, but she has no intention of turning twelve without her dad by her side. He'd promised to be there for her big day, and yet he's been gone for months—away after his discharge from the army, doing some kind of top secret, "important work."

So Macy's staying eleven, no matter what—that is, until she meets Ginger, a nice older lady who is searching for her missing dog. Ginger's dog search is the perfect cover for Macy's attempt to locate her dad. But her hunt puts her on a path to a head-on collision with the truth, where she discovers that knowing can sometimes be a heavy burden. And that change, when finally accepted, comes with an unexpected kind of grace.

Mary Penney's earnest, heartfelt story of change, loss, and new beginnings will resonate with young readers on the cusp of new beginnings, and stay in their hearts long after it's done.
Reviewed by Corine Age 12
Macy Hollinquest is an eleven year old girl who lives in Constant, Colorado but her life is never constant. Her friend Twee (Tui) is still in elementary school and she is in junior high. Her dad can't be there for her birthday and her grandmas recently died. A couple months before her grandma died, an old lady named Ginger accidentally ran into her grandma's coffeehouse avoiding a boy from hitting her. It was upsetting to Macy because she was very close to her grandma. She even kept a piece of glass from the original window. Ginger recently lost her dog, Mr. McDougall and is offering a reward. Macy and Twee work together persistently for the reward.

I enjoyed the book a lot. I give it 9 out of 10 stars. It lost a rank because it was too predictable. I think an age range from 10-15 year old boys and girls would like it if they enjoy fiction. It is an easy read.