NOW IN PAPERBACK!
FINDING AUDREY
INTERNATIONALLY BESTSELLING AUTHOR SOPHIE KINSELLA'S DEBUT YA NOVEL
Praise for
FINDING AUDREY
A New York Times Bestseller
"The Shopaholic scribe accurately weaves teenage insecurities with humor in her heartwarming YA debut."—US Weekly
"Your kids will love it." —Redbook
Celebrate May with FINDING AUDREY! Now available for purchase!
---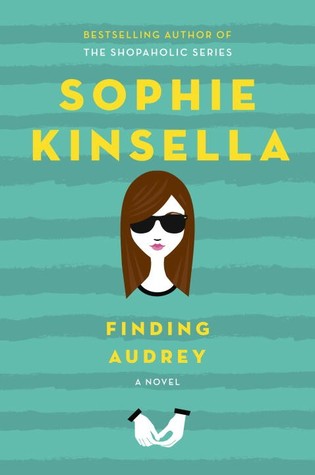 Finding Audrey
Author: Sophie Kinsella
Reading Level: Young Adult
Genre: Contemporary
Release Date: May 3rd, 2016 (Paperback)
Review Source: Delacorte Books for Young Readers
From the #1 New York Times bestselling author of the Shopaholic series comes a terrific blend of comedy, romance, and psychological recovery in a contemporary YA novel sure to inspire and entertain.

An anxiety disorder disrupts fourteen-year-old Audrey's daily life. She has been making slow but steady progress with Dr. Sarah, but when Audrey meets Linus, her brother's gaming teammate, she is energized. She connects with him. Audrey can talk through her fears with Linus in a way she's never been able to do with anyone before. As their friendship deepens and her recovery gains momentum, a sweet romantic connection develops, one that helps not just Audrey but also her entire family.
Now available in paperback is the New York Times bestselling debut YA novel FINDING AUDREY (Ember / on sale May 3, 2016 /$9.99) from internationally bestselling author Sophie Kinsella. Kinsella, the author of such favorites as the Shopaholic series, Can You Keep a Secret?, Wedding Night, and Remember Me?, introduced readers to 14-year-old Audrey Turner, a teen in the throes of a severe social anxiety disorder after a bullying incident at school, and following her journey to rediscovering herself and her happiness. Receiving much critical acclaim from reviewers and fans, the book was hailed as "heartfelt," "engaging," and "relatable." The paperback retails for $9.99 and is sure to garner a wider group of fans with this new, accessible edition.
Audrey spends most of her days hiding behind her dark sunglasses and in the safety of her own home, surrounded by her lovable but chaotic family. Interaction with non–family members has been almost impossible to master since the incident at school. But then one day Linus arrives at her house. A friend of her brother's, Linus makes an instant connection with Audrey and starts to chip away at her exterior, exposing the girl underneath—the girl Audrey herself has been searching for. What results is a tender love story that begins as a friendship and continues in the local Starbucks, where Audrey begins to heal the wounds that have threatened to hold her captive.
Filled with poignancy and laugh-out-loud moments, FINDING AUDREY gives readers a character they can relate to and a family to embrace. Kinsella's story tackles serious topics with humor and heart and creates the next YA couple to root for in Audrey and Linus.
---
Sophie Kinsella raced into the UK bestseller lists in September 2000 with her first novel in the Shopaholic series - The Secret Dreamworld of a Shopaholic (also published as Confessions of a Shopaholic). The book's heroine, Becky Bloomwood – a fun and feisty financial journalist who loves shopping but is hopeless with money – captured the hearts of readers worldwide. Becky has since featured in six further bestselling books, Shopaholic Abroad (also published as Shopaholic Takes Manhattan), Shopaholic Ties the Knot, Shopaholic & Sister, Shopaholic & Baby, Mini Shopaholic and now Shopaholic to the Stars! Becky Bloomwood came to the big screen in 2009 with the hit Disney movie Confessions of a Shopaholic.
Sophie has also written six standalone novels which have all been bestsellers in the UK, USA and other countries around the world: Can You Keep A Secret?, The Undomestic Goddess, Remember Me?, Twenties Girl, I've Got Your Number and her most recent standalone book, Wedding Night.
Sophie wrote her first novel under her real name, Madeleine Wickham, at the tender age of 24, whilst she was working as a financial journalist. The Tennis Party was immediately hailed as a success by critics and the public alike and became a top ten bestseller. She went on to publish six more novels as Madeleine Wickham: A Desirable Residence, Swimming Pool Sunday, The Gatecrasher, The Wedding Girl, Cocktails for Three and Sleeping Arrangements.
She submitted her first 'Sophie Kinsella' novel anonymously to her existing publishers and it was snapped up without her editors knowing that she was already one of their authors. It wasn't until the appropriately titled Can You Keep a Secret? was published that Sophie revealed her true identity for the first time.
Sophie was born in London. She studied music at New College, Oxford, but after a year switched to Politics, Philosophy and Economics. She now lives in London, UK, with her husband and family.
a Rafflecopter giveaway