---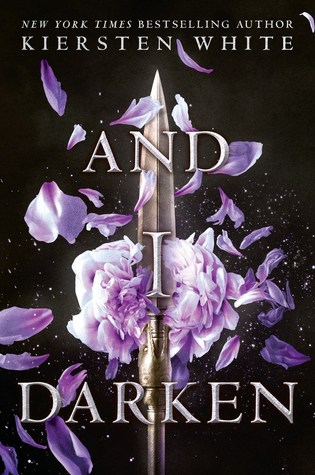 And I Darken
The Conquerors Saga #1
Author: Kiersten White
Reading Level: Young Adult
Genre: Contemporary
Released: June 28th 2016
Review Source: Delacorte Press
NO ONE EXPECTS A PRINCESS TO BE BRUTAL.

And Lada Dragwlya likes it that way. Ever since she and her gentle younger brother, Radu, were wrenched from their homeland of Wallachia and abandoned by their father to be raised in the Ottoman courts, Lada has known that being ruthless is the key to survival. She and Radu are doomed to act as pawns in a vicious game, an unseen sword hovering over their every move. For the lineage that makes them special also makes them targets.

Lada despises the Ottomans and bides her time, planning her vengeance for the day when she can return to Wallachia and claim her birthright. Radu longs only for a place where he feels safe. And when they meet Mehmed, the defiant and lonely son of the sultan, who's expected to rule a nation, Radu feels that he's made a true friend—and Lada wonders if she's finally found someone worthy of her passion.

But Mehmed is heir to the very empire that Lada has sworn to fight against—and that Radu now considers home. Together, Lada, Radu, and Mehmed form a toxic triangle that strains the bonds of love and loyalty to the breaking point.
I was so stoked when I received this ARC. I hadn't read a Kierstan White book since Paranormalcy, so when I saw that this was aimed to fans of Game of Thrones, I nearly burst with excitement. Unfortunately, this book missed the mark for me. It wasn't bad per say, but it didn't keep me engrossed as I expected. The story follows siblings Lada and Radu as they are given away as hostages to the Ottoman Empire by their own father, the duke of Wallachia—who is a total a-hole in my book, but what's a story without daddy issues. Now I did enjoy the character of Lada because she was strong and cunning, whereas her younger brother Radu was weak and naïve. It was a nice change in gender-roles that we don't typically see in novels. Lada was a tough chick that didn't let being "cursed" as a woman, stop her from being who she wants to be. Her snark and sass kept her character interesting. Sadly, that's where my praise ends because there was no character growth whatsoever and it really bummed me out. I wanted—especially Radu—to grow out of that fear he constantly lives in. He really is a sweet kid, with a gentle soul, but in desperate need of some street smarts and a backbone.
My main issue with this novel was the lack of plot. More than half way through the book, and I didn't have a clue to what the issue was. All we did was follow Lada and Radu around as they get shuffled from place to place. It made the story dull. Towards the end it picks up and we really get the GoT action we were promised (no spoilers), but that's all we got. Most of the book was (poorly) building up to the end and when it arrived, I just wanted to be over and done with this book.
The beginning was promising, the world building was fantastic—but the lack of a plot really made this novel hard to read. I put it down a lot and almost DNR'd until a friend told me to keep reading. Am I curious about the next book? Yes, the ending is hella good! But am I willing to go through another slow novel? I'm not so sure.
Warning: this book is said to be aimed at kids 12 and up, and in my opinion, there is NO WAY I would allowed my 12 year old kid to read this. It is pretty dark in some areas and in no way appropriate for the age group this series was aimed for. Seriously though, what twelve year old watches GoT?