---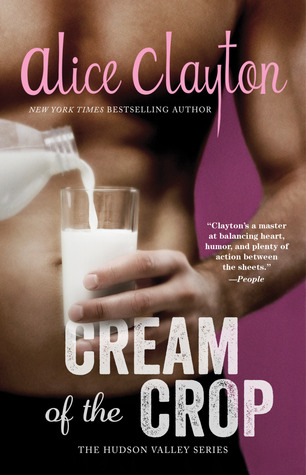 Cream of the Crop
Hudson Valley Series #2
Author:
Alice Clayton
Reading Level: Adult Fiction
Genres: Contemporary Romance | Humor
Release Date: July 12th 2016
Review Source: Gallery Books
New York Times and USA TODAY bestselling author Alice Clayton brings her trademark blend of funny and sexy to this second contemporary romance in the brand-new Hudson Valley series!

Manhattan's It Girl, Natalie Grayson, has it all: she's a hot exec at a leading advertising firm, known industry-wide for her challenging and edgy campaigns. She's got a large circle of friends, a family that loves her dearly, and her dance card is always full with handsome eligible bachelors. What else could a modern gal-about-town wish for? The answer, of course, is...cheese.

Natalie's favorite part of each week is spending Saturday morning at the Union Square Farmer's Market, where she indulges her love of all things triple cream. Her favorite booth also indulges her love of all things handsome. Oscar Mendoza, owner of the Bailey Falls Creamery and purveyor of the finest artisanal cheeses the Hudson Valley has to offer, is tall, dark, mysterious, and a bit oblivious. Or so she thinks. But that doesn't stop Natalie from fantasizing about the size of his, ahem, milk can.

Romance is churning, passion is burning, and something incredible is rising to the top. Could it be...love?
Boom!
Alice Clayton just dropped the mic with this follow up novel in The Hudson Valley series. You normally don't expect the sequel in any series to be as great or better that the first novel, but Clayton had no issues at all proving me wrong. I LOVED LOVED LOVED Cream of the Crop, this Rom Com will have you in stitches and blushing at the same time. The first book Nuts was great, but Cream of the Crop has Natalie and she freaking rocks! Of course Oscar isn't too bad himself, sexy farmer that makes cheese is very appetizing, lol!
Cream of the Crop is a refreshing story about two people that normally wouldn't be caught in each others different worlds, but gravity has them crossings path all the time. And when they finally meet one on one, it the the Fourth of July between those two. All this takes place in the best backdrop that Clayton describes throughout the novel.
So do yourself a favor and pre-order this book, you are going to love it as much as I do. Clayton delivers books that will make your day so much better with her steamy-laugh-out-loud novels.
---
If you haven't read the first book in
The Hudson Valley
series, I strongly suggest that you do. That way you are familiar with all the characters in
Cream of the Crop
. And you can check out reviews from Jaime and I of
Nuts
that we shared
HERE
.