---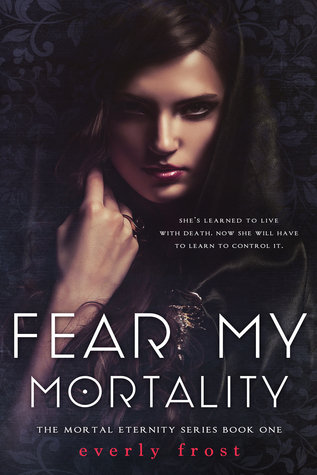 Fear My Mortality
Mortal Eternity #1
Author:
Everly Frost
Reading Level: Young Adult
Genre: Fantasy
Released: April 5 2016
Review Source: Month9Books
In a world where people are invulnerable to illness and death, with lives spanning hundreds of years, a sixteen-year-old becomes witness to the impossible – her brother's failure to regenerate after death after which she suspects that she too may be mortal.
What do you fear when you're able to regenerate from death?
What keeps you human when you know you're able to come back?
This story is one that I feel everyone should read. Fear My Mortality relates to literally everyone. Death is a constant in our lives, it surrounds us with the sad reality of our world. To have a book bring it to light in such a way makes you actually think about things in a different light.
While the book is quite large it was a quick read. I sat down and read 100 pages within an hour. I knew that it would be a quick book for me. And the subject matter made it easier for me to chew too. Wanting to know what was going to happen next. Why, in a world full of regenerations of people, were Ava and her brother in danger?
Ava is humanity - at least that's how I read the book. Ava is what we all feel. Even if we weren't in her position, she still has mostly the same thoughts and feelings about certain topics that we all share. And that's why this is such a relatable book.