---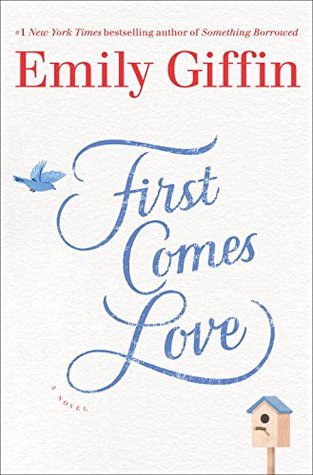 First Comes Love
Author:
Emily Griffin
Reading Level: Adult
Genre: Contemporary
Released: June 28, 2016
Review Source: Netgalley
In this dazzling new novel, Emily Giffin, the #1 New York Times bestselling author of Something Borrowed, Where We Belong, and The One & Only introduces a pair of sisters who find themselves at a crossroads.

Growing up, Josie and Meredith Garland shared a loving, if sometimes contentious relationship. Josie was impulsive, spirited, and outgoing; Meredith hardworking, thoughtful, and reserved. When tragedy strikes their family, their different responses to the event splinter their delicate bond.

Fifteen years later, Josie and Meredith are in their late thirties, following very different paths. Josie, a first grade teacher, is single—and this close to swearing off dating for good. What she wants more than the right guy, however, is to become a mother—a feeling that is heightened when her ex-boyfriend's daughter ends up in her class. Determined to have the future she's always wanted, Josie decides to take matters into her own hands.

On the outside, Meredith is the model daughter with the perfect life. A successful attorney, she's married to a wonderful man, and together they're raising a beautiful four-year-old daughter. Yet lately, Meredith feels dissatisfied and restless, secretly wondering if she chose the life that was expected of her rather than the one she truly desired.

As the anniversary of their tragedy looms and painful secrets from the past begin to surface, Josie and Meredith must not only confront the issues that divide them, but also come to terms with their own choices. In their journey toward understanding and forgiveness, both sisters discover they need each other more than they knew . . . and that in the recipe for true happiness, love always comes first.

Emotionally honest and utterly enthralling, First Comes Love is a story about family, friendship, and the courage to follow your own heart—wherever that may lead.
The story: "First Comes Love" is about two sisters that are as different as night and day trying to find happiness after tragedy. Their relationship has always been fragile but after a terrible accident rocked their family's world, their relationship became unbearable. Meredith is the responsible, Stepford wife type and Josie is the wild, fun, and carefree type. After 15 years of turmoil, the two sisters decide to take a step back and find happiness in their lives.
Dislikes: Emily did a great job creating the characters, as she always does in my opinion. However, I had a difficult time connecting to either of them. They both aggravated me to no end. I have never read a book that I disliked the main characters so much. Meredith was such a b:@$% in my opinion, the entire story! She had no redeeming qualities. I related slightly more to Josie, simply because I tend to be more of a free spirit myself, but some of her decision making drove me crazy.
Likes: I love Georgia and liked that the story takes place in Atlanta. I love the detail that Emily always puts in the settings of her books. It really makes it feel like you're there. I also like that even though the sisters have different annoying personalities, they are able to find forgiveness and strength. The book is told from both point of views which I loved.
The rating: I give this book 3.5 stars because I enjoyed the book. It wasn't a book that I couldn't put down but I did overall enjoy it. It wasn't my favorite Emily Griffin book but it was good.