Are you looking for your next read?
Well, let us help make things easier for you!
Welcome to the Book Blast for
Because I Love You by Tori Rigby
presented by Blaze Publishing!
Check out the teaser below, and be sure to enter
the giveaway found at the end of the post!
As a special treat, we've got another book that may tickle your fancy…
What is it? Read on, dear reader, read on!
---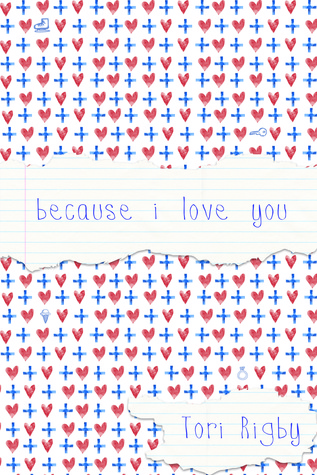 Because I Love You
Author: Tori Rigby
Reading Level: Young Adult
Genre: Contemporary
Released: May 17th 2016
Publisher: Blaze Publishing
Eight weeks after sixteen-year-old Andie Hamilton gives her virginity to her best friend, "the stick" says she's pregnant.
Her friends treat her like she's carrying the plague, her classmates torture and ridicule her, and the boy she thought loved her doesn't even care. Afraid to experience the next seven months alone, she turns to her ex-boyfriend, Neil Donaghue, a dark-haired, blue-eyed player. With him, she finds comfort and the support she desperately needs to make the hardest decision of her life: whether or not to keep the baby.
Then a tragic accident leads Andie to discover Neil's keeping a secret that could dramatically alter their lives, and she's forced to make a choice. But after hearing her son's heartbeat for the first time, she doesn't know how she'll ever be able to let go.
What Readers Are Saying:
"
one of the most amazing books I have ever read and a great contemporary read
" –
KittyKat (Goodreads Reviewer)
"
It's one of those books where everything worked really well together. The story.The characters.The relationships.And the writing. It was just so beautiful.
" –
Nicole (Bookish Thoughts)
Want a peek at the book? Here's an excerpt to get you ready!

"I'll ask Jill to come pick me up."

"No," he replied, his voice breaking. He cleared his throat. "Don't put yourself out. I'll stay with Owen."

"It's okay. I like being there."

Neil nodded then shook his head. "No, this is ridiculous." He moved so fast, I had no idea what was happening until my face was in his hands, and his lips were on mine.

A tingle ran down my spine. His kiss was powerful, urgent, and so full of passion; my head spun. But this was wrong. I couldn't let myself give in.

I pushed off him with a squeal and stepped out of his reach. "Neil—"

He growled and dug his hands into his hair. "When I tell you I love you, do you think it's because I believe you want to hear the words, or because I'm trying to start a conversation? God." He flung his arms out to his sides."I say it to remind you that you are the best damn thing that has ever happened to me. And I will spend every last breath fighting for you."


---
Adopted at three-days-old by a construction worker and a stay at home mom, Tori Rigby grew up with her nose in a book and her fingers on piano keys, always awaiting the day she'd take her own adventure. Now, she goes on multiple journeys through her contemporary and historical romances. She longs to live in the Scottish Highlands, and her favorite place in history is Medieval England—she'd even give up her Internet and running water to go back in time! Tori also writes high-concept genre fiction as Vicki Leigh, and when she isn't writing, she's kicking butt in kravmaga or attending classes to learn how to catch bad guys.
---
YOU MAY ALSO WANT TO CHECK OUT…
Asleep
Author: Krystal Wade
Reading Level: Young Adult
Genre: Horror
Released: February 16th 2016
Publisher: Blaze Publishing
Seventeen-year-old Rose suffers from terrifying, painful nightmares that leave her bruised, exhausted, and questioning her sanity. Desperate to hold on, she makes a choice: Trust her doctor who claims he can cure her, or listen to another patient who swears the asylum will kill them.




Complete the Rafflecopter below for a chance to win!