Welcome to Day #10 of the Die Young With Me Blog Tour!
To celebrate the release of
Die Young With Me
by Rob Rufus (9/20/16), blogs across the web are featuring exclusive content from Rob and 10 chances to win a copy of
Die Young With Me,
as well as two chances to win a Punk Rock Prize Pack in the
Grand Prize Giveaway
!
---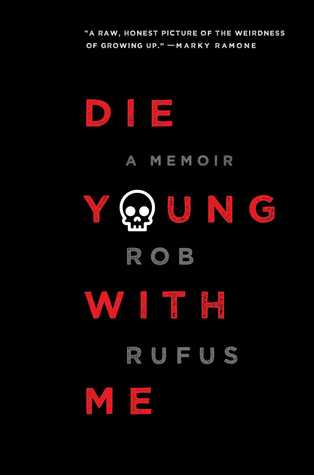 Die Young with Me: A Memoir
Author: Rob Rufus
Reading Level: Young Adult
Genres: Nonfiction
Release Date: September 20th 2016
Publisher: Touchstone
In the tradition of John Green's The Fault in Our Stars and Me and Earl and the Dying Girl comes the incredibly moving true story of a teenager diagnosed with cancer and how music was the one thing that helped him get through his darkest days.

Punk's not dead in rural West Virginia. In fact, it blares constantly from the basement of Rob and Nat Rufus—identical twin brothers with spiked hair, black leather jackets, and the most kick-ass record collection in Appalachia. To them, school (and pretty much everything else) sucks. But what can you expect when you're the only punks in town?

When the brothers start their own band, their lives begin to change: they meet friends, they attract girls, and they finally get invited to join a national tour and get out of their rat box little town.

But their plans are cut short when Rob is diagnosed with a rare form of cancer that has already progressed to Stage Four. Not only are his dreams of punk rock stardom completely shredded, there is a very real threat that this is one battle that can't be won.

While Rob suffers through nightmarish treatments and debilitating surgery, Nat continues on their band's road to success alone. But as Rob's life diverges from his brother's, he learns to find strength within himself and through his music. Die Young With Me is a raw, honest account of a brave teen's fight with cancer and the many ways music helped him cope through his recovery.
Ten Favorite Songs About Dying Young by Rob Rufus


The concept of dying young has always been romanticized in music – especially rock-n-roll music, and especially punk rock music. Live fast, die young, fuck it all, 'cause who cares. It isn't hard to see why a counter culture would adopt this mantra – I think that scoffing at social norms is key to any artistic endeavor, and there is no social norm as universal as the reverent fear of death. So as someone who scoffs more than most, I've always got a kick outa this sort of thinking.
But when I was diagnosed with Stage 4 cancer at the age of seventeen, my attitude about dying young sobered up, a little. I started listening to death-centric songs more critically, to say the least. It was weird listening to so many different artists sing about the void that I was currently peering straight into.
As a songwriter, a punk rocker, and a survivor of teenage cancer, I can look at death songs with a pretty broad lens. And you know what? I still fucking love them. Because no matter if their tone is defiant, reflective, upbeat, downbeat, whatever, the point behind them is the same – life is short. Too short to worry too much about anything. Too short to let the man get you down. And way too short not to rock-n-roll.
Below are ten of my favorite songs about dying young. Give 'em a listen, go on, live a little.
---
Rob Rufus is a musician and writer living in Nashville. His band, Blacklist Royals, has released two full-length albums and played in sixteen countries over the past five years. Rob has written articles for
Modern Drummer, Amp Magazine, Digital Tour Bus
, and many music sites.
Rob also works closely with the cancer community, including the Lance Armstrong Foundation, Stupid Cancer Podcast (the largest advocacy/support organization worldwide for teens with cancer), and Make-A-Wish Foundation. You can find him online at robrufus.net, on Twitter @rob_rufus, and Instagram @dieyoungwithme_official.
Two (2) winners will receive a Punk Rock Prize Pack featuring a finished copy of Die Young With Me, an exclusive poster, a mix tape (ft. an excerpt of the book), Die Young With Me switchback comb (not pictured), and Rob Rufus punk rock vinyls
Enter via the rafflecopter below
US Only
Ends 10/2 at midnight ET
a Rafflecopter giveaway