---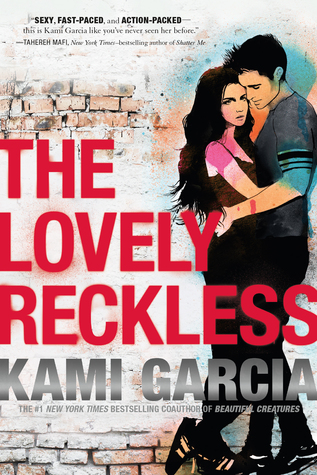 The Lovely Reckless
Author:
Kami Garcia
Reading Level: Young Adult
Genre: Contemporary
Released: October 4 2016
Review Source: Imprint
I've become an expert at avoiding things that could hurt me—which means I will figure out how to stay away from Marco Leone.

Seventeen-year-old Frankie Devereux would do anything to forget the past. Haunted by the memory of her boyfriend's death, she lives her life by one dangerous rule: Nothing matters. At least, that's what Frankie tells herself after a reckless mistake forces her to leave her privileged life in the Heights to move in with her dad—an undercover cop. She transfers to a public high school in the Downs, where fistfights don't faze anyone and illegal street racing is more popular than football.

Marco Leone is the fastest street racer in the Downs. Tough, sexy, and hypnotic, he makes it impossible for Frankie to ignore him—and how he makes her feel. But the risks Marco takes for his family could have devastating consequences for them both. When Frankie discovers his secret, she has to make a choice. Will she let the pain of the past determine her future? Or will she risk what little she has left to follow her heart?
Frankie has a trouble past. Marco has a troubled future. Together they hope that their troubles won't be bigger than they are.
If you're a fan of Kami Garcia then you're in for a treat when you read this book! Not usually the genre of writing that Kami does, but honestly one of her better books! This book will take your emotions on a roller coaster ride that will have you coming back for more. I started this book expecting to finish it by the end of the week and instead I had finished it the day I started.
Frankie is a girl with a past. But honestly who doesn't have a past? Her past has made her into this tough being, but she's beginning to break. Just from the pressure of dealing with the hand that she got dealt in life. When she meets Marco she isn't looking for anything special, she's just trying to fit into a new school. So when Marco invades her heart, it's the last thing she's expecting.
Marco is your classic bad boy, and with Frankie's dad being a cop that can be a little disastrous. But wanting it to work out with Frankie, Marco is willing to do about anything to make things right. That is until she figures out what he's been hiding from everyone.
Garcia knows how to hook readers in and make them only want to live in the world that she has created. Even when it's a contemporary world compared to the fantasy worlds she's made in the past. You will be crushing on Marco from the second you meet him and you will be wishing you were a part of Cruz's gang from the moment she becomes Frankie's best friend. This book might even make you want to become a street racer.
---