---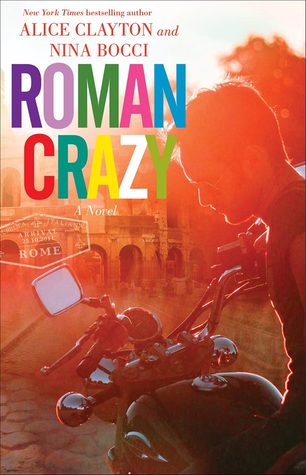 ROMAN CRAZY
The Broads Aboard #1
Author:
Alice Clayton
&
Nina Bocci
Reading Level: New Adult
Genre: Contemporary Romance
Released: September 13, 2016
Review Source: Gallery Books
Avery Bardot steps off the plane in Rome, looking for a fresh start. She's left behind a soon-to-be ex-husband in Boston and plans to spend the summer with her best friend Daisy, licking her wounds—and perhaps a gelato or two. But when her American-expat friend throws her a welcome party on her first night, Avery's thrown for a loop when she sees a man she never thought she'd see again: Italian architect Marcello Bianchi.

Marcello was the man—the one who got away. And now her past is colliding with her present, a present where she should be mourning the loss of her marriage and—hey, that fettuccine is delicious! And so is Marcello…

Slipping easily into the good life of summertime in Rome, Avery spends her days exploring a city that makes art historians swoon, and her nights swooning over her unexpected what was old is new again romance. It's heady, it's fevered, it's wanton, and it's crazy. But could this really be her new life? Or is it just a temporary reprieve before returning to the land of twin-set cardigans and crustless sandwiches?

A celebration of great friendship, passionate romance, and wonderful food, Roman Crazy is a lighthearted story of second chances and living life to the fullest.
The Story:
Roman Crazy starts out with Avery Bardot walking in on her husband of eight years, with his secretary bent over his desk. The expected thing for her to do, according to her husband and his family, is to turn a blind eye and work it out together.
"It's your world, too. Don't forget that Remingtons don't get divorced."
The thing is, Avery doesn't consider herself apart of that world and seeing her husband in that compromising position, forces her to take off her blinders. Avery's long time friend, Daisy, calls her and recommends just what she needs, a vacation in Rome. When Avery gets to Rome, something in her awakens that she didn't realize she was missing, her passion. Passion for life, passion for art, and passion for love. What she didn't count on was seeing the one person that could have been
"the love of her life."
The Likes:
The thing I loved most about this book was the fantastic descriptions of the setting. I have never been to Italy, I don't speak any Italian, the closest I have come to Italian food is Olive Garden; but this story absolutely makes you fall in love with all things Italy. I could picture myself living there and traveling to all the places Avery traveled and trying all the food Avery tried. I now have a new, must see, bucket list country to visit. I really liked Avery and Daisy's relationship. Their dialogue was so funny at times, I laughed out loud. I wouldn't expect anything less from Alice Clayton and Nina Bocci. I LOVED the hero of this book. Marcello Bianchi is so incredibly sexy and passionate that he earned a top spot in my book boyfriend list. I'm a big fan of second chance novels and Alice Clayton and Nina Bocci did not disappoint with this one.
The Dislikes:
I only had a couple of issues with this book. The first thing was that it was kind of slow for me personally. It felt like it took a while for things to pick up. Once things did pick up, I couldn't put it down. I also felt due to the slower paced beginning, that the ending was a little rushed.
The Rating:
I am giving Roman Crazy a solid 4 stars because I really enjoyed the writing. Alice Clayton and Nina Bocci make a great duo and I can't wait to read more from the two of them. Alice Clayton has been a favorite author of mine and I will definitely be adding Nina Bocci as a favorite also.