Welcome to our stop on What Light tour for Jay Asher. This tour is hosted by
PenguinTeen
.
---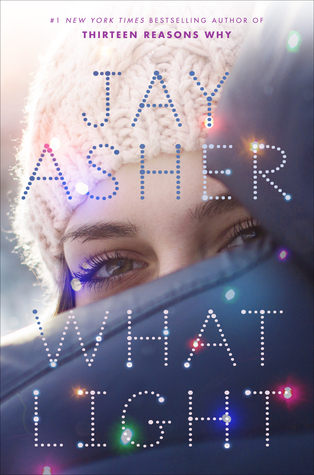 What
Light
Author: Jay Asher
Reading Level: Young Adult
Genre: Contemporary
Released: October 18th 2016
Review Source: Razorbill
From Jay Asher, #1 New York Times bestselling author of Thirteen Reasons Why, comes a romance that will break your heart, but soon have you believing again. . . .

Sierra's family runs a Christmas tree farm in Oregon—it's a bucolic setting for a girl to grow up in, except that every year, they pack up and move to California to set up their Christmas tree lot for the season. So Sierra lives two lives: her life in Oregon and her life at Christmas. And leaving one always means missing the other.

Until this particular Christmas, when Sierra meets Caleb, and one life eclipses the other.

By reputation, Caleb is not your perfect guy: years ago, he made an enormous mistake and has been paying for it ever since. But Sierra sees beyond Caleb's past and becomes determined to help him find forgiveness and, maybe, redemption. As disapproval, misconceptions, and suspicions swirl around them, Caleb and Sierra discover the one thing that transcends all else: true love.

What Light is a love story that's moving and life-affirming and completely unforgettable.
This story is so sooo adorable! I honestly had the best of both world with this book, as I was also offered the audiobook. So not only was I carrying the book around at work during breaks but I was also listening while eating breakfast and/or driving to and from work. What Light is perfect for the holidays and anytime you need a "pick me up" read.
I'll put it out there, this is actually the first time I've ever read/listened one of Jay's book. I know, I know, I feel like I need to be put in time-out. But don't be fooled, after reading What Light, I'll be working myself out of time-out. Honestly this can easily be made into a movie and become one of those cheesy, most watched movies because of how delighted the story is. And it's during Christmas time, so it's win-win. Make me a movie and I will replay it forever!
From the gecko, Sierra was an idol. This girl is smart, kind and simply genuinely even if she is living two different lives. Every year, she works on her family's Christmas tree farm and tries to be nice with everyone without getting too attached. As she needs to go back home after the Christmas break. As you can see this can be heartbreaking. Although she enjoys spending time at the farm, Sierra sometimes wishes to be normal like the rest of us and spend time with our loves ones during the holidays. But during her current visit, she meets Caleb and she sets an example.
Caleb is the guy with a bad reputation. He did a mistake and has been paying it ever since. No one in this town, not even Caleb can let it go - even if the one person that matter has forgiven him. Sometimes people can be caught up with these rumors and judge others. Unlike many of us, Sierra put these rumors aside and starts talking to Caleb. She becomes a great friend and more. She teaches Caleb how to forgive and find redemption. Seriously, she sets the true spirit of Christmas.
Not to give the story away, because you obviously need to read it. What Light is truly an enjoyable story. We learn not to judge people and to let go of the past. And if one person is able to shed some light, it can seriously bright up someone's life. Perfect for Christmas and the holidays, so be sure to add this to your holiday pile.
---
Jay Asher was born in Arcadia, California on September 30, 1975. He grew up in a family that encouraged all of his interests, from playing the guitar to his writing. He attended Cuesta College right after graduating from high school. It was here where he wrote his first two children's books for a class called Children's Literature Appreciation. At this point in his life, he had decided he wanted to become an elementary school teacher. He then transferred to California Polytechnic State University in San Luis Obispo where he left his senior year in order to pursue his career as a serious writer. Throughout his life he worked in various establishments, including as a salesman in a shoe store and in libraries and bookstores. Many of his work experiences had an impact on some aspect of his writing.
He has published only one book to date, Thirteen Reasons Why, which was published in October 2007. He is currently working on his second Young Adult novel, and has written several picture books and screenplays. Thirteen Reasons Why has won several awards and has received five stars from Teen Book Review. It also has received high reviews from fellow authors such as Ellen Hopkins, Chris Crutcher, and Gordon Kormon.
SWEEPSTAKES RULES:
Enter for a chance to win one of five (5) hardcover copies of What Light by Jay Asher.
NO PURCHASE NECESSARY. Enter between 12:01 AM Eastern Time on October 10, 2016 and 11:59 PM Eastern Time on October 21, 2016. Open to residents of the fifty United States and the District of Columbia who are 13 and older. Winners will be selected at random on or about October 24, 2016. Odds of winning depend on number of eligible entries received. Void where prohibited or restricted by law.
a Rafflecopter giveaway