Welcome to our stop on
Crystal Storm
tour for Morgan Rhodes. This tour is hosted by
PenguinTeen
.
---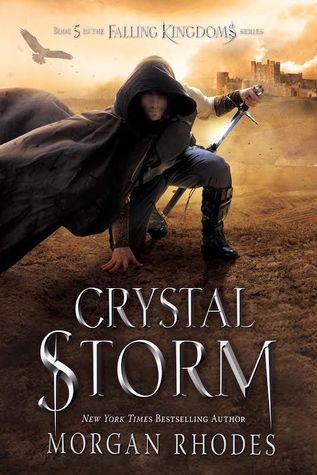 Crystal Storm
Falling Kingdoms #5
Author: Morgan Rhodes
Reading Level: Young Adult
Genre: Fantasy
Released: December 13th 2016
Review Source: Razorbill
An epic clash between gods and mortals threatens to tear Mytica apart . . . and prove that not even the purest of love stands a chance against the strongest of magic.

MAGNUS and CLEO are forced to test the strength of their love when Gaius returns to Mytica claiming he's no longer the King of Blood but a changed man seeking redemption.

LUCIA, pregnant with the child of a Watcher, has escaped the clutches of the unhinged fire god. Her powers are dwindling as she goes forth to fulfill a prophecy that will keep her baby safe . . . but could mean her demise.

JONAS treks back to Mytica with a plan to overtake Amara, but fate takes hold when he runs into the beautiful Princess Lucia and joins her on her perilous journey.

AMARA has taken the Mytican throne, but with no way to unleash the water magic trapped within her stolen crystal, she'll never be able to seize glory and get sweet revenge.

And what kind of darkness will descend--and who will be safe--after Prince Ashur reveals the dangerous price he paid to cheat death?
You guys!! MAGNUS!!!!!!
Well well well, I should've known, it takes a great book boyfriend to take me off my reading slump. Having Magnus back was not only the best thing to my reading life but he brought light to my heart.... only for a few hours. Yes, few, because this book completely broke me. It was pure brutal to my heart. Bloody brutal. Yet captivating, still brutal.
Where to begin? Where to begin? Cleo? Magnus? Lucia? Jonas? The alliances? The betrayals? The kissing? YES SO MUCH KISSING! The what the fudge moments? The ending? So much, so sooo much going on and yet so little time.
Let me start with Cleo AND Magnus. Because these love birds are simply adorable and inspiring. I love them so so sooo much. I love how they love each other! I want to be them. With so much love, you think they will be happy? Guess again, because these two may love each other but they must keep their love as secret. Unknown to the public. They should be screaming their love to everyone.
As for the rest of the gang.... Gosh, these people are brutal! There is SO much to say, as this book will reveal those whom are loyal and those that are willing to stab a friend or friends. Ugh, so much betrayal after betrayals. I want to skip the months to come because I need that final book. I CANNOT WAIT ANOTHER YEAR! I NEED TO KNOW... NOW! Guys, the ending. The brutal ending. The bloody ending. I need air. No, I need the final book.
If you're ready to dive in, just beware not to trust anyone because this book is mad. The dead are back and the living are dead. Oh gosh, let me not say anything else, JUST READ THE DAMN BOOK!
I'm supposed to pick some of favorite quotes but to be honest, I can't. I am at a loss. Just think about this quote and what's to come:
"This love you think you feel for my son? The day will come when you will have to choose between Magnus and power. And I know, without a doubt, that you will choose power."
What will be the final choice?
---
Morgan Rhodes lives in Ontario, Canada. As a child, she always wanted to be a princess—the kind that knows how to wield a sharp sword to help save both kingdoms and princes from fire-breathing dragons and dark wizards. Instead, she became a writer, which is just as good and much less dangerous. Along with writing, Morgan enjoys photography, travel, and reality TV, and is an extremely picky yet voracious reader of all kinds of books. Under another pen name, she's a nationally bestselling author of many paranormal novels. Falling Kingdoms is her first high fantasy.
a Rafflecopter giveaway
Enter for a chance to win a set of the Falling Kingdom books by Morgan Rhodes, which includes paperback editions of Falling Kingdoms, Rebel Spring, Gathering Darkness and Frozen Tides and a hardcover edition of Crystal Storm (Approximate Retail Value ("ARV"): $63.00). In addition, four (4) Runner-up Winners will each receive a paperback edition of Falling Kingdoms ($11.00 each).
NO PURCHASE NECESSARY. Enter between 12:01 AM (EST) on December 5, 2016 and 11:59 PM (EST) on December 16, 2016. Open to residents of the fifty United States and the District of Columbia who are 13 and older. Winners will be selected at random on or about December 19, 2016. Odds of winning depend on number of eligible entries received. Void where prohibited or restricted by law.