---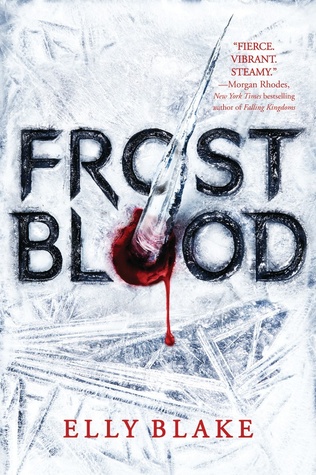 Frostblood
Frostblood Saga #1
Author: Elly Blake
Reading Level: Young Adult
Genre: Fantasy
Released: January 17th 2017
Review Source: Little, Brown Books for Young Readers
Seventeen-year-old Ruby is a fireblood who must hide her powers of heat and flame from the cruel frostblood ruling class that wants to destroy all that are left of her kind. So when her mother is killed for protecting her and rebel frostbloods demand her help to kill their rampaging king, she agrees. But Ruby's powers are unpredictable, and she's not sure she's willing to let the rebels and an infuriating (yet irresistible) young man called Arcus use her as their weapon. All she wants is revenge, but before they can take action, Ruby is captured and forced to take part in the king's tournaments that pit fireblood prisoners against frostblood champions. Now she has only one chance to destroy the maniacal ruler who has taken everything from her and from the icy young man she has come to love.

Fast-paced and compelling, Frostblood is the first in a page-turning new young adult three-book series about a world where flame and ice are mortal enemies—but together create a power that could change everything.
When I started reading Frostblood I did not know what to expect . . . lately I've DNF a lot of fantasy books so I was crossing all my fingers and toes that this would not be a let down and guess what it wasn't.
FrostBlood took me by storm, Elly Blake will lure you in completely with her storytelling.
Ruby is a fireblood meaning she has the ability to control heat and flame and because of her powers she has had to hide them lest she be discovered by the Frostbloods who want to kill her kind. Now Frostbloods are the opposite they control the colder aspects like ice and such.
Throughout the story Ruby has many obstacles to overcome. First she was in prison awaiting to be killed, second she was rescued by men who want her to kill the king and then she was captured to compete in a tournament where only one victor survives.
Ruby endured much in a short amount of time. Even though her journey has not be an easy one, you will come to admire Ruby's bravery and her quest for control over her powers, her life, and most importantly her need for revenge.
The men who rescued Ruby were teaching her how to master her powers and I might just have a crush on one, Arcus. When Ruby and Arcus argue it's like music to my soul. Here you have a Frostblood and Fireblood working together so you already know sparks will fly whether it be cold or hot and I was all for the heated arguments between those two.
Usually in a new fantasy book there's a lot of info that takes away from the story and characters so I was extremely happy that Elly Blake got to the plot without killing me with extra baggage.
Frostblood was a fast-paced read full of action and hidden secrets that left me breathless for more.