---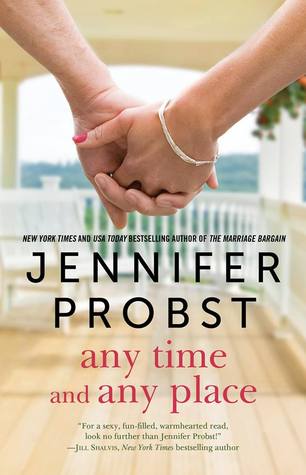 Any Time, Any Place
Billionarie Builders #2
Author:NAME
Reading Level: New Adult
Genre: Contemporary Romance
Released: January 24, 2017
Review Source: Gallery Books
HGTV's Property Brothers meets The Marriage Bargain in this second volume in the Billionaire Builders series, an all-new heart-wrenching and sexy contemporary romance from New York Times bestselling author Jennifer Probst.

When she was a teen, Raven Bella Stratton's father was killed in a horrible car crash. The bigger shock was the discovery of a woman with him—Diana Pierce—and their two fully packed suitcases with airline tickets to Paris. Devastated by her father's betrayal, Raven went to live with her aunt, never truly overcoming the traumatic event. When she discovers that the mysterious woman had a family with a husband and three boys, Raven vows to leave the memory of her father behind.

Until Dalton Pierce visits one night and suddenly her past challenges her future...

Leaving his life in California behind to run Pierce Construction with his two older brothers, Dalton Pierce has enjoyed returning home and studying his passion of woodworking. But when he visits the local bar with his brothers one evening, he's immediately drawn to the smart-mouthed, badass, sexy bartender who sets his body on fire. Unfortunately, she doesn't seem as intrigued by him, and his multiple advances are met with rejection. When he offers to restore the bar back to its original glory, he begins to work with her on a daily basis, and falls harder. His plan of seduction slowly weaves a web around them both, until they are caught up in the spell. But Dalton doesn't know the secret that can either destroy them both...or finally mend two broken hearts.
Any time any place was a great book, I loved it! This is the first book I have read by Jennifer Probst and it will definitely not be the last! I was able to read this book as a stand alone even though it is a part of a series.
Raven was a beautiful, independent, strong woman that has dealt with the loss of a mother at a young age and her father at the age of 19. Her father ran off with a women Raven never knew about heading to Paris, but tragically died in an accident on the way to the airport. Raven blamed the woman, Diane Pierce, for "seducing" her father. Diane's family slewed hate and accusations about Raven's father being the manipulator to a naive, unhappily married woman, ruining his reputation. Raven wanted revenge against Diane's husband and three sons, until they came into her bar many years later. She decided to get to know the youngest son, Dalton, better to find out more about the horrible woman that stole her father. What she didn't count on, was falling for him.
Holy hell can Jennifer write a story. She captured me from page one of this book. Raven is tied for first in my all time favorite heroine list. I absolutely love that the she is so bad ass. She can defend herself, which she proves many times throughout the book. She can handle her own does so effortlessly.
Dalton, good lawd in heaven, he is an absolute dream man. Not only is he drop dead gorgeous but he's sweet, swoon worthy, sarcastic, and works excellent with wood. Need I say more!? The chemistry between Dalton and Raven is heart pounding-ly insane!! I loved getting to know the Pierce brothers and Morgan, the oldest pierce brothers fiancé. She's as badass as Raven. Excellent character development. I feel like these characters are friends and loved living in their world.
I'm rating this story 5 stars because Jennifer Probst is a genius author. Her words captivate and leave you wanting more!! I cannot wait to read the next book! I highly recommend reading this series!