---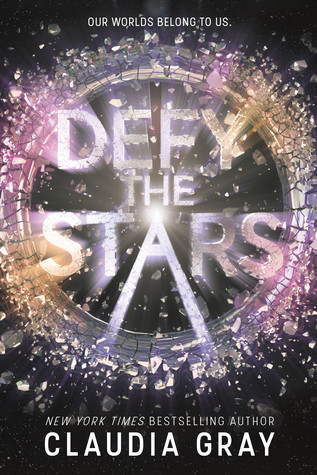 Defy the Stars
Author:
Claudia Gray
Reading Level: Young Adult
Genre: Science Fiction
Release Date: April 4th 2017
Review Source: Little, Brown Books for Young Readers
Noemi Vidal is a teen soldier from the planet Genesis, once a colony of Earth that's now at war for its independence. The humans of Genesis have fought Earth's robotic "mech" armies for decades with no end in sight.
After a surprise attack, Noemi finds herself stranded in space on an abandoned ship where she meets Abel, the most sophisticated mech prototype ever made. One who should be her enemy. But Abel's programming forces him to obey Noemi as his commander, which means he has to help her save Genesis--even though her plan to win the war will kill him.
Together they embark on a daring voyage through the galaxy. Before long, Noemi begins to realize Abel may be more than a machine, and, for his part, Abel's devotion to Noemi is no longer just a matter of programming.
---
TOP FIVE FAVORITE SCENES
This question is always trickier than it ought to be, isn't it? But I think I've narrowed it down to my five favorite scenes. A lot of these are fairly spoilery, so I didn't go into a ton of detail. Instead here are a few reasons why I love these scenes…
5) Abel and Noemi watch "Casablanca" together
* It's always great to write one character sharing something they love with another.
* This conversation leads to a very interesting suggestion from Abel.
* I adore "Casablanca" almost as much as Abel does, so I get to share the love just like he does.
4) They journey through the underground tunnels of Cray.
* Because it's a great moment to show off Noemi's ingenuity.
* And because it shows even ingenuity has limits.
* It's also a sequence of pure adventure, which is always fun.
3) Noemi and Abel meet for the first time
* Does it count as a "meet-cute" if they're trying to kill each other at the time? Hope so!
* They're so themselves here. I feel like if you only read this bit of the book, you'd still know about eighty percent of who these people are, both good and bad.
2) Abel has his final conversation with his creator
* While the relationship between Noemi and Abel is central to DEFY THE STARS, Abel's connection to Burton Mansfield is also incredibly important, and that comes through in this scene more than any other.
* For me, this may represent the single greatest moment of tension in the book.
* Certainly it's the moment when you realize how far both Noemi and Abel have come, because otherwise neither of them could react as they do here.
1) Noemi and Abel's last visit to the equipment pod bay
* Abel returns to a place that was once his prison and connects with it in an entirely different way, which is always interesting to write.
* I tend to structure a lot of scenes around dialogue, but this was one where the images and actions carry us forward, while the characters say relatively little.
*…. You'll know why when you read it.
---

About Claudia:
Claudia Gray is a pseudonym. I would like to say that I chose another name so that no one would ever learn the links between my shadowy, dramatic past and the explosive secrets revealed through my characters. This would be a lie. In truth, I took a pseudonym simply because I thought it would be fun to choose my own name. (And it is.)
I write novels full-time, absolutely love it, and hope to be able to do this forever. My home is in New Orleans, is more than 100 years old, and is painted purple. In my free time I read, travel, hike, cook and listen to music. You can keep up with my latest releases, thoughts on writing and various pop-culture musings via
Twitter
,
Tumblr
,
Pinterest
,
Goodreads
or (of course) my own home page.
If you want to contact me, you can email me, but your best bet is probably to Tweet me. I don't do follows on Twitter, but I follow everyone back on Tumblr, Pinterest and Goodreads.
---
Giveaway Details:
1 winner will receive a signed finished copy of DEFY THE STARS, US Only.
---
Tour Schedule:
Week One:
Week Two: